D-backs likely to add power this offseason
D-backs likely to add power this offseason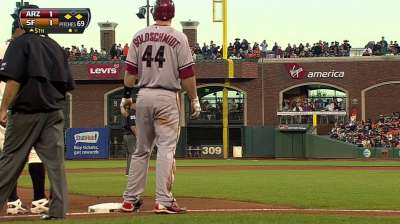 LOS ANGELES -- The D-backs' offense has hit a rough stretch of late, and GM Kevin Towers said Wednesday that the injuries the team has suffered this year could make it difficult to determine what, if any, changes need to be made to the lineup for 2014.
"I still believe in guys like [catcher Miguel] Montero and [second baseman Aaron] Hill and [third baseman] Martin Prado. I think [outfielder Adam] Eaton will be better next year. [Outfielder Gerardo] Parra is Parra, kind of a normal year for him."
There does seem to be one thing that Towers has already targeted heading into the offseason.
"I think we need to be conscious of maybe another power bat," Towers said. "I'm not expecting Aaron to go out and hit 30 home runs every year, but I think if Aaron can stay healthy for a full year, I think he's a 20 home run guy. I would like to think at some point Montero is a 20 home run guy. We probably could use another big bat somewhere in our lineup."
Towers said the two most likely positions to add a power bat to would be a corner-outfield spot or third base.
A lot could depend on how outfielder Cody Ross progresses this offseason as he tries to return from a dislocated and fractured right hip.
"I would say it's probably less likely a free agent," Towers said of the power bat. "It might be you could move one of your center fielders for a corner outfielder. There's a couple of free agents out there.
"More than likely it's going to come via trade. That's if we decide to move one of our guys, we think our center fielders, for a corner outfielder."
Steve Gilbert is a reporter for MLB.com. Read his blog, Inside the D-backs, and follow him on Twitter @SteveGilbertMLB. This story was not subject to the approval of Major League Baseball or its clubs.