Putz progressing; Reynolds experiences setback
Putz progressing; Reynolds experiences setback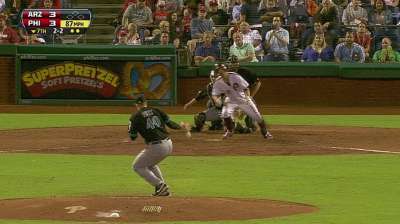 PHOENIX -- D-backs right-hander J.J. Putz took a step closer to returning to action after throwing a simulated game on Thursday.
The news was not as promising for left-hander Matt Reynolds, who also pitched in a sim game Thursday, but had his outing cut short.
"Reynolds didn't go very good," D-backs manager Kirk Gibson said. "He's back seeing the doctor. He felt something. He's back in the evaluation stage."
Reynolds has been on the disabled list since June 10 with a strained ulnar collateral ligament (elbow). The hope was that he could avoid surgery through a rehab. Reynolds entered the clubhouse Friday with medical films under his arm and said he preferred to defer comment until after he spoke with the team's medical staff.
"I don't know that yet," Gibson said when asked if Reynolds might require surgery.
Putz, meanwhile, is trying to come back from a dislocated right pinkie. He is slated to throw another simulated game on Saturday and could return before the end of the season.
"We'll see how he is after that," Gibson said. "I hope and expect him to come back."
Steve Gilbert is a reporter for MLB.com. Follow him on Twitter @SteveGilbertMLB. This story was not subject to the approval of Major League Baseball or its clubs.