Reynolds may face Tommy John surgery
Reynolds may face Tommy John surgery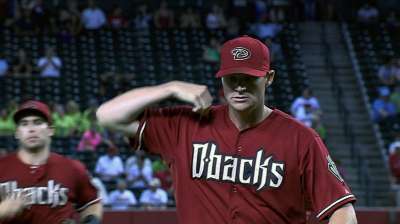 PHOENIX -- More than three months removed from the initial strain in his ulnar collateral ligament (elbow) that forced him to go on the disabled list, D-backs relief pitcher Matt Reynolds figured he only needed one more throwing session after Thursday's before he could be activated and make his return to the mound at Chase Field.
But after discomfort in the elbow forced him to end his throwing program early, Reynolds will visit team doctors on Monday to determine yet again if he'll need Tommy John surgery.
"I was just throwing and I started to get some elbow pain," Reynolds said on Saturday. "It was sharper than before, so I shut it down. Everything was going good before, I was almost done and I felt like I was throwing the ball well, too. It's a tough pill to swallow. Bad time to have a setback."
Reynolds has been sidelined since June 10 and the hope at first was that he could avoid a surgical procedure by resting the elbow before slowly building up his strength again. Now, after this setback, the team isn't so optimistic.
"When you have an injury like that then you come back and feel pain like that, usually it's not good," D-backs manager Kirk Gibson said.
Reynolds said he doesn't know what to expect when he visits the doctor on Monday, but for his own good, he's not setting his expectations too high.
"It's easier to do mentally," he said. "Prepare for the worst, hope for the best. It's easier to handle then if it's better news."
Before getting hurt, Reynolds was one of the D-backs' most reliable relievers in 2013, posting a 1.98 ERA in 27 1/3 innings while striking out 23 batters.
Tyler Emerick is an associate reporter for MLB.com. This story was not subject to the approval of Major League Baseball or its clubs.