Gibson: Parra growing, has room to improve
Gibson: Parra growing, has room to improve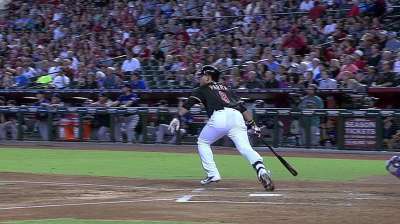 PHOENIX -- With his start in right field vs. the Rockies on Sunday, D-backs outfielder Gerardo Parra surpassed his previous career high in games played, making his 142nd appearance this year. Serving mostly as an everyday player, Parra has experienced plenty of highs at the plate in 2013 -- translating into a career-best 5.5 WAR -- but for the 26-year-old to take the next step in his maturation, D-backs manager Kirk Gibson would like to see development in one particular aspect of his game.
"Against lefties, he wasn't very good this year, that's something he'll have to improve upon," Gibson said. "We've had some conversations about that in how we can get him to the next level. I see a lot of room for improvement."
Facing right-handers, Parra entered Sunday with a slash line of .294/.342/.472. Against southpaws, however, his numbers were drastically lower at .206/.288/.236. Gibson said that while he has seen the outfielder make strides in his approach vs. lefties this year, he needs to continue making adjustments to improve.
"He's getting better; he's got a bit to learn, though," Gibson said. "I think there is a lot left in his tank there. ... He's just kind of right on the edge there."
Despite his struggles vs. lefties, Parra has been in the lineup against them quite often this year, as he has accumulated a career-high 165 at-bats opposite southpaws. That is, in large part, due to his Gold Glove-caliber defense in the outfield that makes him so indispensable.
"When you take him out, you're taking him out of right field," Gibson said. "He is dominating out there, he is a stopper. Think about how many times he has done it. He influences the game in a different way. Don't just look at it as he doesn't hit lefties well. The way he plays defense, it's hard to take him out of there."
Tyler Emerick is an associate reporter for MLB.com. This story was not subject to the approval of Major League Baseball or its clubs.