Langwell impressing Gibson since joining D-backs
Langwell impressing Gibson since joining D-backs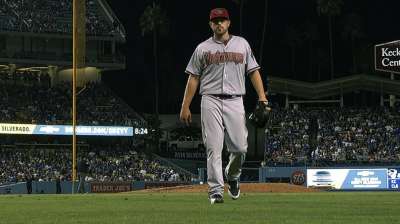 PHOENIX -- Although Matt Langwell has only appeared in three games since being acquired from the Indians in August as part of the Jason Kubel deal, the early results have been about as good as possible for the right-hander, who retired the first eight batters he faced, including three on strikeouts, before allowing a hit in Sunday's series finale.
Langwell entered in the seventh and tossed two-thirds of an inning, allowing just the one hit, in the D-backs' 8-2 win over Colorado.
The 27-year-old utilizes an arsenal of four pitches, but it's his fastball that has caught the eye of D-backs manager Kirk Gibson. Despite only throwing it around 88-92 mph, the way Langwell releases the pitch makes it look even faster to the batter.
"He's sneaky," Gibson said. "He spots the ball well and it gets on you pretty quick, too. He throws it where he wants to as well, that's important. He's been throwing the ball good for us."
That ability to trick a hitter's eye has led to a high strikeout rate this year for Langwell as he has recorded 61 K's in 2013 in 68 combined innings between the Minors and big leagues.
"I hide the ball a little longer than most guys, so that's where sneaky fast comes in," Langwell said. "For whatever reason, it's just a little more deceptive than a lot of other guys'."
As for starting off his stint with the D-backs on a good note, Langwell realizes the importance of a strong showing in September heading into the offseason.
"It's nice to get out there and get a couple opportunities to pitch and help the team out," he said. "It's even better to start out with a couple zeros."
Tyler Emerick is an associate reporter for MLB.com. This story was not subject to the approval of Major League Baseball or its clubs.