Davidson adjusting to sporadic playing time
Davidson adjusting to sporadic playing time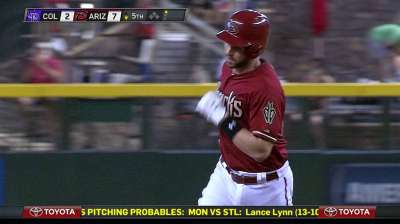 PHOENIX -- For the last two seasons in the Minors, D-backs third baseman Matt Davidson timed his swing at the plate with a leg kick that touched the ground just as his hands were beginning to drive toward the ball.
The success he experienced using that technique -- a combined 40 homers and 150 RBIs -- undoubtedly helped the 22-year-old reached the big leagues as fast as he did. But since being added to the D-backs' roster as a September callup, Davidson hasn't received the daily playing time he was accustomed to in the Minors and as a result, his timing suffered.
So after going 2-for-14 with five strikeouts in his first six September games, the youngster met with D-backs hitting coach Don Baylor to iron out a solution to his problem.
"We talked and got rid of my leg kick," Davidson said. "Just since I haven't been playing a lot, the timing was off. There were too many moving parts, so we got rid of it and now I'm getting my leg down sooner."
That's not to say the kick is entirely gone, though. Davidson still lifts his front foot up in his swing, but it's far less profound and more pick it up and put it down.
Davidson described the changes as, "Just stepping in and going for it."
That mindset appears to be paying dividends for him, at least in his first two games since employing the adjustment. Given starts at third on Saturday and Sunday, Davidson went 4-for-7 over the two games with a walk, three runs scored, three extra-base hits and one run driven in.
"You can see what he can do when he gets the bat on the ball," D-backs manager Kirk Gibson said. "He's very strong and he's getting more comfortable."
The highlight of Davidson's weekend, of course, came Sunday when he hit his first Major League homer, a solo shot into the left-field bleachers. Upon returning to the dugout, his teammates gave him the silent treatment for a few moments before congratulating the rookie. Davidson ended up trading an autographed baseball for his milestone home run ball with the fan that caught it.
Armed with some confidence from the last couple games, Davidson is hopeful he can finish the season strong as the D-backs continue to evaluate their young players in advance of the 2014 campaign.
"It's starting to feel like a regular baseball game again, the stadiums aren't too big anymore," Davidson said. "I'm less nervous, just doing my thing."
Tyler Emerick is an associate reporter for MLB.com. This story was not subject to the approval of Major League Baseball or its clubs.