Putz rejoins D-backs bullpen
Putz rejoins D-backs bullpen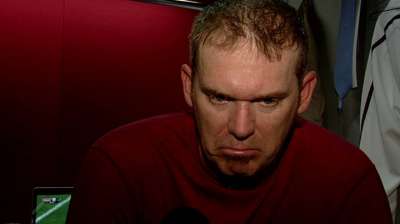 PHOENIX -- Champing at the bit to pitch again this season after a fluke injury forced him to miss more than three weeks, J.J. Putz's frustrating wait ended Monday as the D-backs reinstated the veteran reliever from the disabled list.
"I just missed playing, being out there and competing with the guys, so I was just trying to get back as fast as I could," Putz said. "I'm glad I get a chance to pitch these last games, that's exciting. It's one thing to be in the dugout rooting for these guys, but it's another to be out there contributing."
Sidelined since Aug. 24 with a dislocated right little finger, Putz said the injury feels about 90 percent healed, but it bothers him when he bumps into something.
The 36-year-old also missed two months after sustaining an elbow strain in May. He came back in July and August, posting a 1.08 ERA in those months before injuring his finger while attempting to field a Kevin Frandsen ground ball vs. the Phillies.
D-backs manager Kirk Gibson said Monday he'll use Putz in short-relief situations, with one inning being his max length.
Tyler Emerick is an associate reporter for MLB.com. This story was not subject to the approval of Major League Baseball or its clubs.