Closer Ziegler trying to fight off sinus infection
Closer Ziegler trying to fight off sinus infection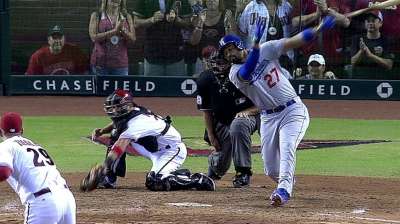 PHOENIX -- When he got back to his locker Monday night after recording his 11th save of the year, the exhaustion hit D-backs closer Brad Ziegler.
An upper respiratory virus has done what opposing batters have not been able to do all year -- hit him hard.
The illness has been circulating in the clubhouse for the better part of a month, knocking Martin Prado out of the lineup for a time in San Francisco.
"That's the good thing about throwing only one inning," Ziegler said. "I just have to muster up enough energy for 10-15 minutes of going at it hard. If I was a starter, it would be way tougher."
Ziegler, who likely would be available for Tuesday's game, is taking antibiotics for the sinus infection and is hoping it doesn't get any worse.
"Knowing my history it will get into my chest and turn into bronchitis," Ziegler said. "But it hasn't gotten there yet and we're trying to keep it from getting there."
With the close contact of the clubhouse, not to mention the recirculated air on the planes and buses they share, viruses tend so spread rapidly within a team.
"When somebody gets something in there, we share it pretty good," D-backs manager Kirk Gibson said. "We're very charitable."
Steve Gilbert is a reporter for MLB.com. Read his blog, Inside the D-backs, and follow him on Twitter @SteveGilbertMLB. This story was not subject to the approval of Major League Baseball or its clubs.