Gibson likely to test rookie Owings at second
Gibson likely to test rookie Owings at second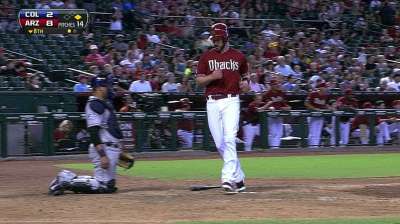 DENVER -- Over the last nine games of the season, D-backs manager Kirk Gibson will likely give rookie Chris Owings some playing time at second base.
Owings, ranked by MLB.com as the organization's third-best prospect, has primarily played shortstop during his Minor League career, though he did see 11 games at second in Triple-A this year.
"I've been taking ground balls over there," Owings said. "Whenever he decides to play me over there, I'll be ready."
The team could look to expand Owings' skillset given the presence of fellow rookie shortstop Didi Gregorius. When it looked like both were going to spend a significant portion of the season in the Minor Leagues together, the team had planned on rotating them between shortstop and second base.
As it turned out, Gregorius and Owings played together only for two weeks before Gregorius was promoted in April.
Owings, who was drafted by the D-backs out of high school in 2009, came into Friday's game hitting .250 in 28 at-bats since being called up earlier this month.
"He looks good," Gibson said. "He's grown up. We've watched him mature, we've watched him come up through the organization. He's impressed us. The things he's been working on, he's implementing here. That's what you look for. He's got great hand-eye coordination. He's got a little bit of sock. You can see he's got bat speed. He runs decent. He stole a couple of bases, played solid defense -- he's done well."
At one point, the D-backs talked about possibly getting Owings some reps at third base in the Minor Leagues, but that did not come to pass.
"I played third in high school my first year," Owings said. "That was about it. It's different. You have to get used to it. It's a whole other game. It's pretty much instincts over there. It would be a new avenue, but I think I'd be all right over there. I think I could play anywhere on the field."
Steve Gilbert is a reporter for MLB.com. Read his blog, Inside the D-backs, and follow him on Twitter @SteveGilbertMLB. This story was not subject to the approval of Major League Baseball or its clubs.