D-backs still have high hopes for Skaggs
D-backs still have high hopes for Skaggs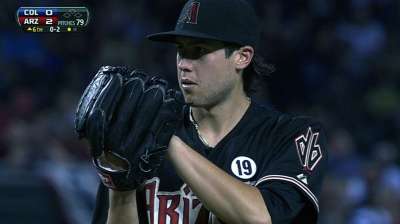 DENVER -- When they decided not to promote him in September, the D-backs told left-hander Tyler Skaggs to take the month off to clear his head after a frustrating season.
Skaggs lost the competition for the No. 5 spot in the rotation during Spring Training to Patrick Corbin and compiled a 4.59 ERA in 19 games for Triple-A Reno. In between, he was called up to the big leagues for short stints and had a 5.12 ERA in seven starts.
"His velocity has regressed," D-backs general manager Kevin Towers said. "I think a lot of that is mechanics, just a little out of whack right now. Still has the good breaking ball and changeup. It's just his fastball has backed up, doesn't have confidence in his fastball command, a little gun shy."
The D-backs still have high hopes for Skaggs, who came into the year ranked among the top pitching prospects in the game.
At the end of the big league season, the D-backs will have Skaggs come back to Arizona where he can work with the organization's pitching coaches on getting his mechanics back in order.
"He's a real key guy for us, so we're going to try and get our arms around him here in the offseason, look at video and get him right," Towers said. "I know I've seen some things just on still video and he's not the same guy."
One of the things Towers noticed is that mechanically Skaggs is now standing more upright in his delivery something that could be affecting his velocity.
Steve Gilbert is a reporter for MLB.com. Read his blog, Inside the D-backs, and follow him on Twitter @SteveGilbertMLB. This story was not subject to the approval of Major League Baseball or its clubs.