Prado starting to drive ball with consistency
Prado starting to drive ball with consistency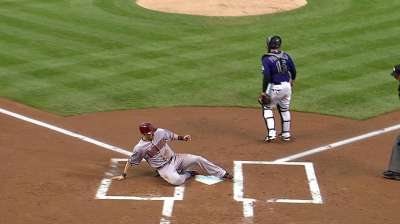 SAN DIEGO -- In a sense, D-backs third baseman Martin Prado may have been too good of a teammate earlier this year.
Prado was acquired by the D-backs in January in the trade that sent outfielder Justin Upton to Atlanta.
"This kid is a good kid, really has a good mind for the game, he's a great teammate," D-backs manager Kirk Gibson said. "He had a lot going on this year. He didn't change leagues, but he changed divisions and it was a big adjustment for him. I think the new team, just living in a different spot after being with the Braves his whole career I think that was a big adjustment for him."
Prado hit second early in the year and Gibson thought that in an effort to be a good teammate Prado tried to go the opposite way too often or just move runners over rather than drive them in.
Gibson and assistant hitting coach Turner Ward looked at video of Prado when he was at his best with the Braves and determined that he was not pulling the ball enough.
So to try and encourage him to do that more often, Gibson moved him from the No. 2 spot to the No. 5 spot. While the No. 2 hitter sometimes gives himself up to move a runner, the No. 5 hitter is expected to drive in runs.
"Really that's when he started taking off," Gibson said. "Now he's comfortable with his teammates, he's comfortable with his surroundings so he's been great for us. He's been a great pickup for us."
Steve Gilbert is a reporter for MLB.com. Read his blog, Inside the D-backs, and follow him on Twitter @SteveGilbertMLB. This story was not subject to the approval of Major League Baseball or its clubs.