Gibson, Trammell mourn coach, dear friend Brown
Gibson, Trammell mourn coach, dear friend Brown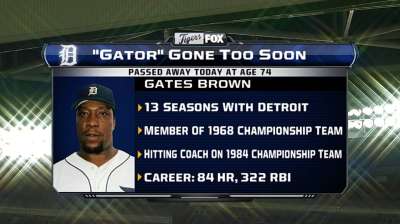 PHOENIX -- D-backs manager Kirk Gibson and bench coach Alan Trammell lost a friend and coach Friday when former Tigers hitting coach Gates Brown died at the age of 74.
Brown played 13 seasons for the Tigers and served as their hitting coach from 1978-84.
Gibson, who grew up in Michigan as a Tigers fan, had a long history with Brown dating back to Brown's playing career.
"Gator was a guy, that when I was a little kid, I watched him quite a bit," Gibson said. "He was an unreal pinch-hitter. I think at the time, he was the best Tigers pinch-hitter of all time, had the most hits. Then ironically, he was my hitting coach. He was a great guy, real simple."
Gates was the first big league hitting coach for both Gibson and Trammell.
"He was a good hitting coach," Trammell said. "You know, back in those days, it was more the tough-love coaching. Gator was such a good man."
When Trammell and his double-play partner Lou Whitaker came up, Brown helped them become better.
"We both hit the ball the other way to start with, which I think is a great philosophy when you first get to the big leagues," Trammell said. "We learned how to pull, because he told us, 'At some point in time, young man, these pitchers will jam you, and you have to learn to turn on the ball.'
"It took a couple of years, but we evolved. We both came up very, very young, but we ended up being able to [pull the ball], so he was very instrumental for us."
Gibson told a famous story of Gates that Trammell swears is true.
"My favorite Gates Brown story, that I can tell anyway, was he was a pinch-hitter and Mayo Smith was his manager," Gibson said. "He used to like to eat hot dogs, and back in the day, we didn't have food in the clubhouses. So Gates, he didn't usually pinch-hit until the eighth inning. So he's back there in the sixth inning or something like that, and he had just gotten -- at the old Tiger Stadium, there was a little door to go in the clubhouse, and you'd run somebody down there and have somebody buy you a couple of hot dogs. You'd sneak them in there, because you weren't supposed to do it. So Gates grabbed a couple of hot dogs, and all of a sudden Mayo Smith came running up there and said, 'C'mon Gator, let's go.' It's too early for him, so he's got these two hot dogs, so he jams them down the front of his uniform and goes up there. He hits a double, head first slide, mustard all over him. So anyway, he got fined for it. He said, 'I was getting strong!'"
Tears then began to well up in Gibson's eyes.
"Gates used to talk like that," Gibson said. "He was a good, good man, and I'm sorry to see him pass."
Steve Gilbert is a reporter for MLB.com. Read his blog, Inside the D-backs, and follow him on Twitter @SteveGilbertMLB. This story was not subject to the approval of Major League Baseball or its clubs.