Bradley makes strong impression in BP session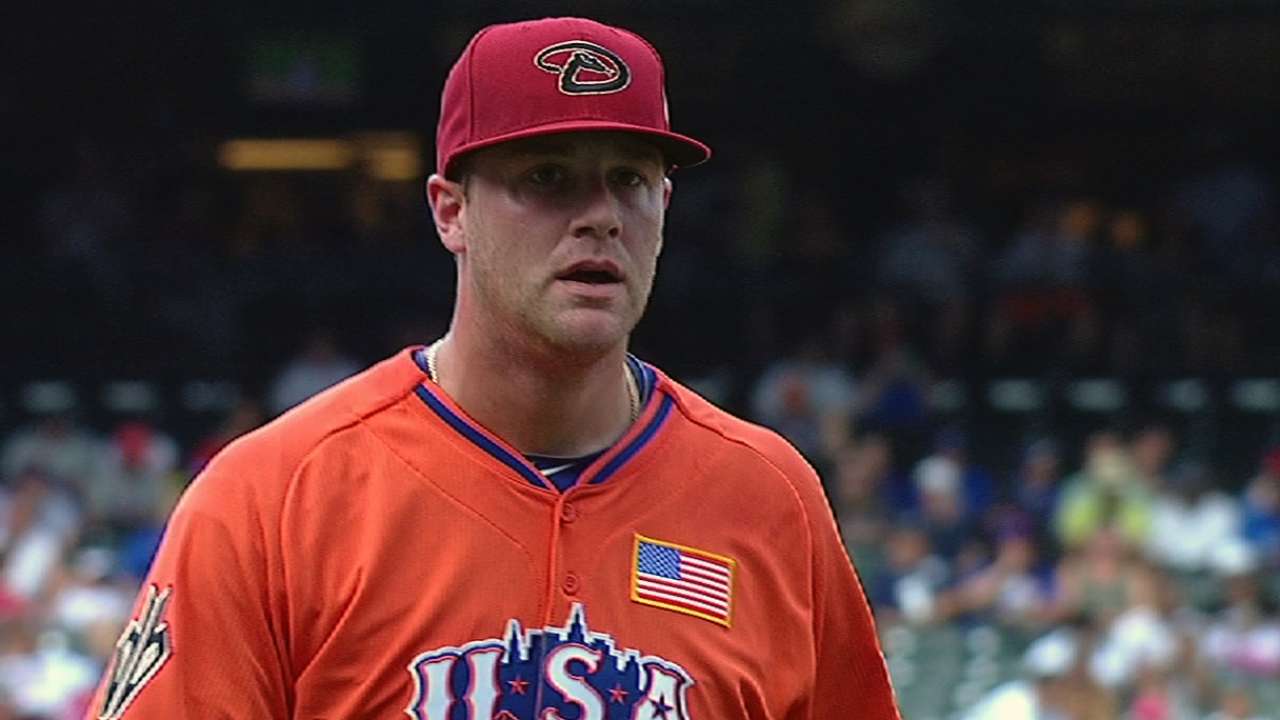 "The first guy I faced today was Trumbo and I've watched him hit home runs for three or four years now," said Bradley, 21. "I'm still a little kid in a baseball uniform. I step in and I see Mark Trumbo and I get excited, get nervous, and everything I love about this game rolled into one. All these guys are good hitters and it's fun to compete and see where your stuff is."
There were several swings and misses against Bradley. There were also plenty of called third strikes.
"He got in there and threw four straight balls to Trumbo and then he decided he was going to paint [the corners]," Ross said. "He threw me three straight pitches and I was out of there. His stuff was coming out really good and he has really late life on his fastball, which is a great thing. His curveball bites really well."
Bradley, the organization's Pitcher of the Year last season, is ranked fifth on MLB.com's list of Top 100 prospects. The club is giving him a chance to earn a spot in the starting rotation that will likely feature Patrick Corbin, Wade Miley, Bronson Arroyo, Trevor Cahill, and Brandon McCarthy.
Randall Delgado is another option for the rotation, but he could also pitch out of the bullpen.
"[Bradley] threw the ball really well today," D-backs manager Kirk Gibson said. "He locates the ball pretty good and his curveball was really good. He worked on his changeup a little bit. There are a lot of things that go into it. He has to be able to field his position, he has to be able to hit, hold his runners and know where to go when backing up and things like that."
Bradley's best days appear to be ahead of him.
"It's still very early in spring, but it felt good to get out there in a game-like atmosphere to see where you are at so far this spring and keep working and improving," Bradley said. "It's so early, I'm probably 60 or 70 percent if I had to put a percentage on it."
Jesse Sanchez is a national reporter for MLB.com. Follow him on Twitter @JesseSanchezMLB. This story was not subject to the approval of Major League Baseball or its clubs.