Gibson prefers to have more time with replay
D-backs skipper will have only six spring games to brush up on rules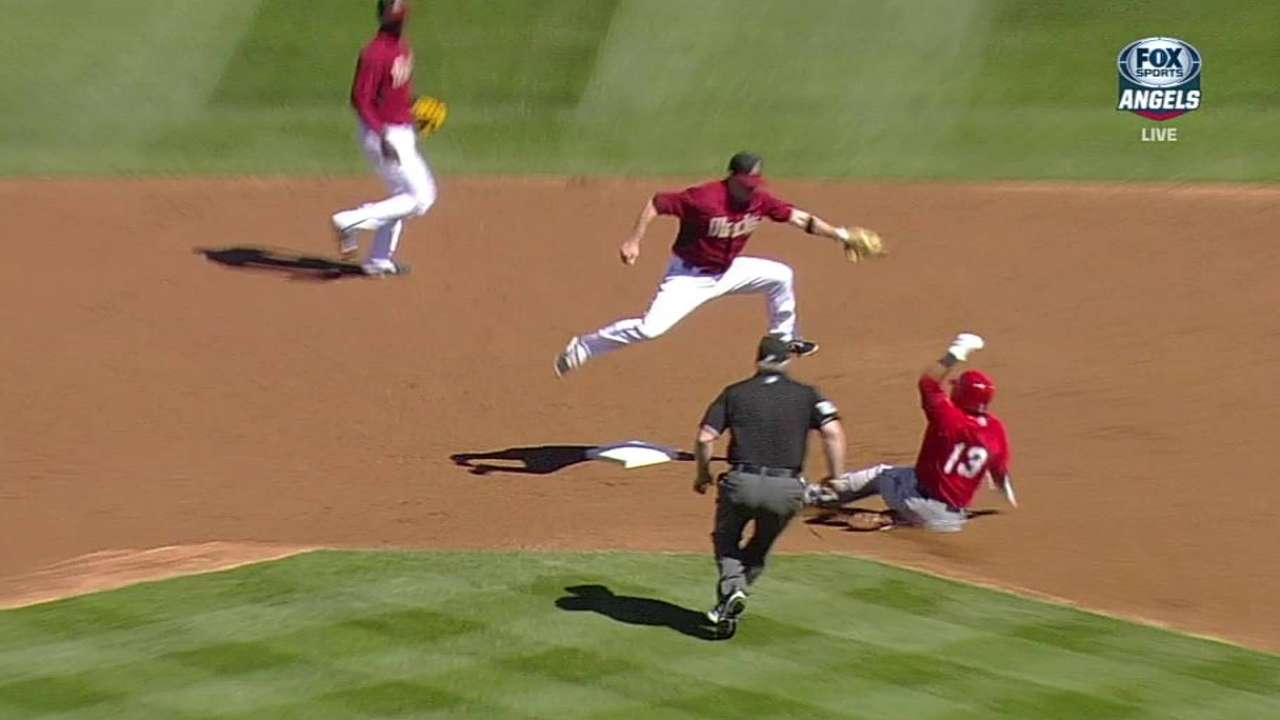 SCOTTSDALE, Ariz. -- There was only one call challenged in Monday's D-backs-Angels game under the new replay system, but that didn't mean there was not a lot of talk in the Arizona dugout about it.
"Replay consumed a ton of the game," D-backs manager Kirk Gibson said referring to the talk between coaches in the dugout. "I think it's much more complicated than we thought. We had a lot more conversations during the game."
Angels manager Mike Scioscia challenged a play in the second inning when his player -- Luis Jimenez -- was ruled to be tagged out while trying to steal second.
After two minutes and 31 seconds spent reviewing the play in the first-base camera well, the umpiring crew ruled that the play would stand as called.
That left Scioscia with no challenges for the remainder of the game, and while Gibson did not wind up challenging anything, he did think about it on at least two occasions.
Once when Paul Goldschmidt was ruled out on a bang-bang play at first base in the fourth and the other in the sixth when there was a close play at the plate.
D-backs video coordinator Allen Campbell watched the game in the clubhouse video room on Monday and communicated with Gibson via walkie talkie. During the regular season, Campbell will have a better system.
"In Chase [Field] we'll have a system where he'll be able to go back immediately, he'll see every view and he'll be able to click on it and review it right away," Gibson said.
The D-backs have six more games this spring where replay will be used.
"I wish we had more," Gibson said.
Steve Gilbert is a reporter for MLB.com. Read his blog, Inside the D-backs, and follow him on Twitter @SteveGilbertMLB. This story was not subject to the approval of Major League Baseball or its clubs.