Bradley bonding with backstop Montero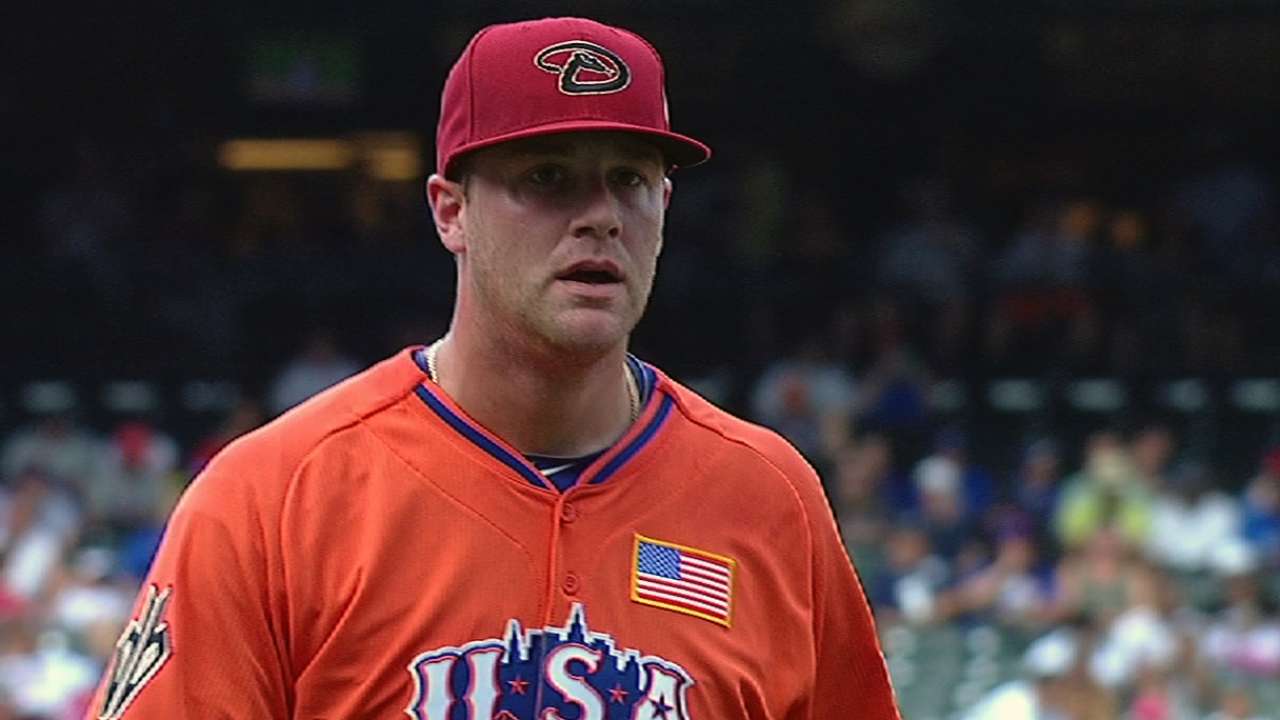 TEMPE, Ariz. -- D-backs top prospect Archie Bradley and catcher Miguel Montero are becoming fast friends this spring, building a relationship that should pay dividends whenever the hard-throwing right-hander reaches the big leagues.
Bradley, who made his second Cactus League start Saturday, drove with Montero from the D-backs' training facility in Scottsdale to Tempe Diablo Park to face the Angels. On the way, the batterymates discussed the lineup they were about to face and how they wanted to attack it.
That experience alone made Bradley feel accepted, but then upon arriving at the stadium, he followed Montero onto the field, where the affable catcher introduced the youngster to Albert Pujols, a three-time MVP.
Not a bad way for a 21-year-old to spend a morning. Talking about it later on in the day, Bradley gushed about how helpful Montero has been to him.
"We're forming a bond," Bradley said. "Miggy has been super nice; he's taken me under his wing. The thing I like about him is he's very positive. Even when I throw a bad pitch, he tells me it was great. I know he's doing it for my confidence and I love it. To have a guy like that with eight years' experience and for him to be on my side, it's been really nice."
Montero is never one to be unfriendly to anyone, but with Bradley, the backstop sees something special. He loves Bradley's makeup, his fortitude and mostly, his eagerness to absorb as much information as he can.
"He's a good kid, he likes to be around and he always wants to learn, so I want to get to know him," Montero said. "Try to build a belief and trust between each other so he feels more secure on the mound. I already have a relationship where we want to talk and we can joke around. It's going to make him feel, when he gets the callup, like he belongs here."
As for his actual outing, Bradley again impressed Saturday, flaunting his nasty repertoire of a power fastball, big curve and an occasional changeup as he worked 3 1/3 innings, surrendering two hits and two walks while striking out three.
"What can you say? He looked great," D-backs manager Kirk Gibson said. "He's just got explosive stuff."
One of Bradley's strikeouts came against the man he was starstruck meeting with before the game. After getting ahead 0-2 in the count, the righty froze Pujols in the first with a curveball for a called strike three. Then two innings later with runners on the corners and two outs, Bradley retired the Angels slugger again, this time inducing a grounder to short.
"I'm sitting there thinking, 'I'm facing a Hall of Fame guy right now,'" said Bradley, who threw 58 pitches Saturday. "The adrenaline definitely kicked in a whole lot more. But you have to bear down and make your pitches. I was glad I did that and I definitely learned a lot from it."
Bradley doesn't know yet when he'll see the mound again, but when he does, he hopes Montero will be in the lineup with him. He's excited to work with the veteran more, but there might be an ulterior motive there as well.
"He said I can drive his Ferrari before we leave here, so I'm holding him to that," Bradley said, smiling. "I hope my insurance will cover that."
Tyler Emerick is an associate reporter for MLB.com. This story was not subject to the approval of Major League Baseball or its clubs.