MLB.com Columnist
Jim Callis
Pipeline Perspectives: Owings most pleasant surprise
D-backs shortstop emerges from game's 'true' rookies to make best impression so far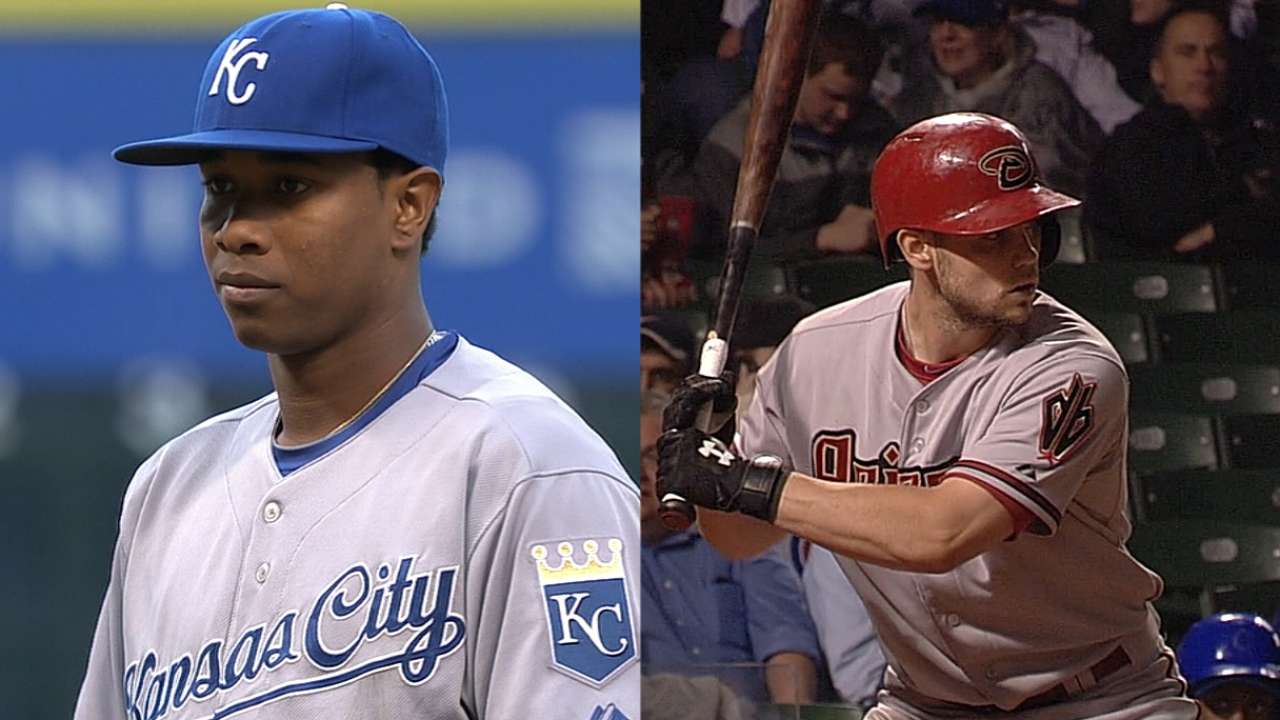 There's a good amount of subjectivity regarding prospects. With the evaluation of talent in the eye of the beholder, finding a consensus is often difficult. Even Jim Callis and Jonathan Mayo of MLBPipeline.com don't always see eye to eye, and they discuss their viewpoints regularly in a feature called Pipeline Perspectives. Submit a topic for them to debate.
Very little has gone right for the D-backs in the first three weeks of the season. They expected to contend for a playoff berth, but instead they've posted the Majors' worst record and already find themselves eight games back in the National League West.
Paul Goldschmidt continues to star, and veterans Wade Miley, Miguel Montero and Mark Trumbo have produced as expected. But nearly every other veteran regular has underperformed, and Arizona has had very little in the way of pleasant surprises.
Very little, as in just one.
Chris Owings beat Didi Gregorius for the shortstop job in Spring Training and has played well in all facets of the game -- so well, in fact, that he has been baseball's best prospect rookie during the start of the season. (Jonathan Mayo disagrees -- his choice is Royals right-hander Yordano Ventura.)
(A disclaimer: We acknowledge that White Sox first baseman Jose Abreu and Yankees right-hander Masahiro Tanaka have been the best rookies so far. But we're all about prospects at MLBPipeline.com, so for the purposes of this discussion, we're focusing only on rookies who came up through farm systems as opposed to arriving fully developed from other professional leagues.)
Owings, 22, is a prospect in every sense of the word. Signed for $950,000 as the 41st overall pick in the 2009 First-Year Player Draft, he broke out in 2012 by hitting 17 homers while reaching Double-A. Last year he was named the Pacific Coast League MVP after batting .330/.359/.482 and leading the Triple-A circuit with 104 runs, 180 hits and 263 bases.
Owings is best known for his bat, which hasn't disappointed, either during his first taste of the big leagues last September or after he made the club this spring. He ranks second on the D-backs with a .308 average and third with a .357 on-base percentage, and he leads the club with four steals. He had a reputation for being a steady if unexceptional defender, but he has impressed with his glovework.
His strong play isn't a fluke. With his bat speed and his knack for barreling balls, he should continue to hit for a high average. Though his power hasn't manifested itself yet in the Majors, he has more than most middle infielders and could hit 15 homers per year once he's in his prime.
Owings' solid speed should allow him to steal a few bases and make plenty of plays at shortstop. If the need arises, he's also capable of playing second base, which might be his best position in the long run.
Most of the top Rookie of the Year candidates are in the American League this year, including the aforementioned Abreu, Tanaka and Ventura, as well as Red Sox shortstop Xander Bogaerts, Tigers third baseman Nick Castellanos and Astros outfielder George Springer. The National League is barren by comparison, with the preseason frontrunners -- Mets catcher Travis d'Arnaud, Reds outfielder Billy Hamilton and Cardinals second baseman Kolten Wong -- all off to slow starts.
If he maintains his current level of performance, Owings could win the NL award -- not bad for someone who wasn't even supposed to be his own club's top rookie this year. Right-hander Archie Bradley has time to surpass Owings, but baseball's best pitching prospect can't do that until the D-backs promote him from Triple-A.
When Arizona engineered a three-team, nine-player trade to get Gregorius from the Reds in December 2012, general manager Kevin Towers said that his new shortstop reminded him of a young Derek Jeter. But with a lot less fanfare, it's Owings who's plugging what had been the team's gaping hole at short.
Jim Callis is a reporter for MLB.com and writes a blog, Callis' Corner. Follow @jimcallisMLB on Twitter. This story was not subject to the approval of Major League Baseball or its clubs.