Trumbo expects to be sidelined at least six weeks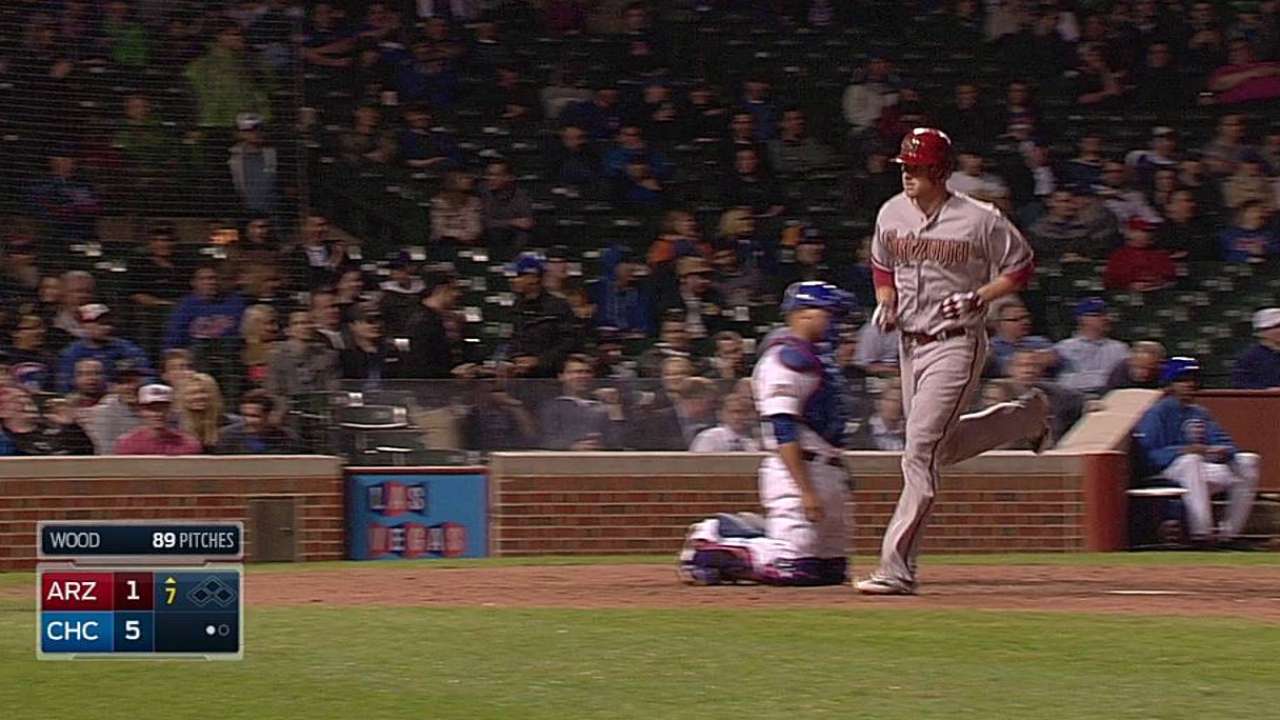 PHOENIX -- Though the results of the CAT scan on Mark Trumbo's injured left foot weren't released by the D-backs before their game against the Phillies on Friday, the Arizona slugger told the assembled media in the clubhouse that he expects to be out at least six weeks with what he described as a stress fracture of the metatarsal bone.
"The best case is that it goes by quickly and we win a lot of games," said Trumbo, wearing a black walking cast with a sonar device that sends steady healing signals into the injured area. "The best medicine for anything is that the team's doing well, you progress on time, and you're ready to go when you're supposed to."
The D-backs placed the left fielder, who leads the team with seven homers and 19 RBIs, on the 15-day disabled list Thursday before the final game of a four-game series against the Cubs in Chicago.
"We know regardless it's going to lengthy," D-backs manager Kirk Gibson said on Friday. "I don't know exactly what else to tell you at this time."
Trumbo began feeling the effects of the injury during Monday night's game at Wrigley Field and an MRI revealed the extent of the damage. He saw D-backs orthopedic specialist Dr. Michael Lee, who administered the CAT scan on Friday, and he expects to see a couple of other specialists in the upcoming days.
"But I don't think there's much room for error in the diagnosis," he said.
Trumbo joins the walking wounded in the room that includes pitchers Patrick Corbin, Daniel Hudson, Matt Reynolds and David Hernandez, all in different phases of recovery from Tommy John elbow ligament replacement therapy. Cody Ross, coming back from last season's severe hip injury and surgery, was held out of the lineup against the Phillies at Chase Field.
Trumbo was obtained this past offseason in a deal with the Angels that sent pitcher Tyler Skaggs to Los Angeles. It was anticipated that he would bolster the lineup and augment power displayed by first baseman Paul Goldschmidt. Despite hitting .210 with a .264 on-base percentage in 21 games, Trumbo was already doing just that.
Asked how the D-Backs would replace Trumbo's presence in the lineup, backup infielder Eric Chavez said: "You don't."
"We just need contributions from others," Gibson said. "We have some depth out there. We have other guys who need to play more than if [Trumbo] was in the rotation."
Barry M. Bloom is a national reporter for MLB.com and writes an MLBlog, Boomskie on Baseball. Follow @boomskie on Twitter. This story was not subject to the approval of Major League Baseball or its clubs.