Ross OK easing back into everyday role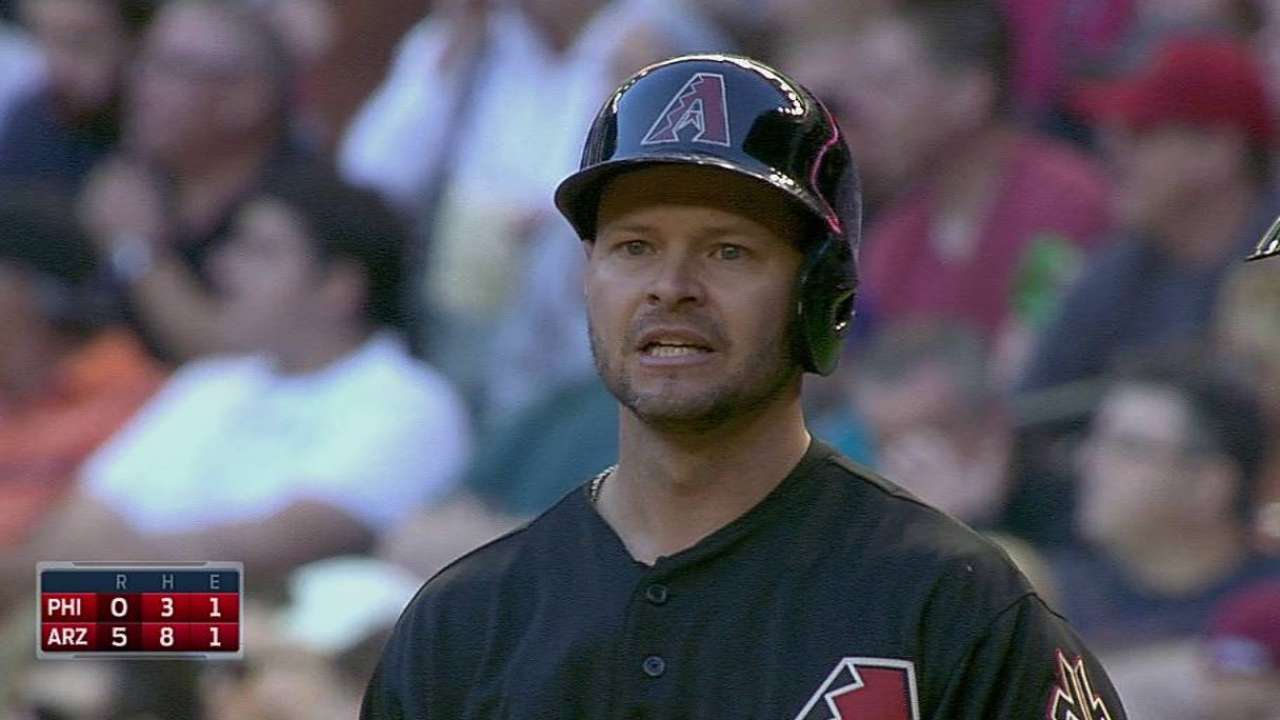 PHOENIX -- Cody Ross was back in the lineup and in left field for the second consecutive game on Sunday at Chase Field after missing back-to-back starts.
Ross had two singles and three RBIs off ace Phillies left-hander Cliff Lee in Saturday night's 6-5 loss, making him 3-for-26 since returning from the disabled list on April 18 in his comeback from last year's severe hip injury and surgery. He also made a sliding catch in foul territory on a ball hit by Lee to open the fifth inning.
Manager Kirk Gibson said he intends to spot Ross and not push him too much. Ross couldn't disagree.
"I think I'm pretty much ready to play every day," said Ross, who admitted to limited mobility in the outfield and a still tentative feeling running the bases. "I think the smart thing would be to take it easy. I'm coming off a really serious injury. The last thing they want to do is run somebody into the ground after you've had that type of injury.
"But we'll be smart about it. [Gibson] has asked me every single day how I feel, how I'm recovering, stuff like that. As far as running out there and playing, I can do it on a majority basis."
Ross has had a litany of injuries in his life: a torn anterior cruciate ligament, a broken leg in middle school, the recurrence of a strained left calf during last year's Spring Training that kept him on the disabled list until mid-April and established the pattern of his first season with the D-backs after signing a three-year, $26 million free-agent contract.
But nothing prepared him for the injury he sustained on Aug. 11 at Chase Field against the Mets. During the bottom of the first inning, Ross smacked a grounder in the hole between third and short that was fielded cleanly by third baseman Wilmer Flores. Ross ran the ball out, but collapsed just before he reached first base.
Ross is back on the field simply because of the advances in sports medical surgery.
Two days after the incident, Ross underwent reconstructive surgery on his right hip. The back wall of the hip was broken off, Ross explained, so surgeons went in and put that back together, putting a plate over it with screws.
"Yeah, no question, the evolution of medicine has definitely come a long way since Bo Jackson," Ross said referring to the superstar athlete whose dual baseball and football careers ended in the early 1990s because a catastrophic hip injury. "He's the only guy who comes to mind. He was such a freak athlete that he was able to play two seasons of baseball afterwards because he was Bo Jackson. If I had done that back then I'd have probably been done."
Barry M. Bloom is a national reporter for MLB.com and writes an MLBlog, Boomskie on Baseball. Follow @boomskie on Twitter. This story was not subject to the approval of Major League Baseball or its clubs.