Gibson, Bowa discuss Perez jersey incident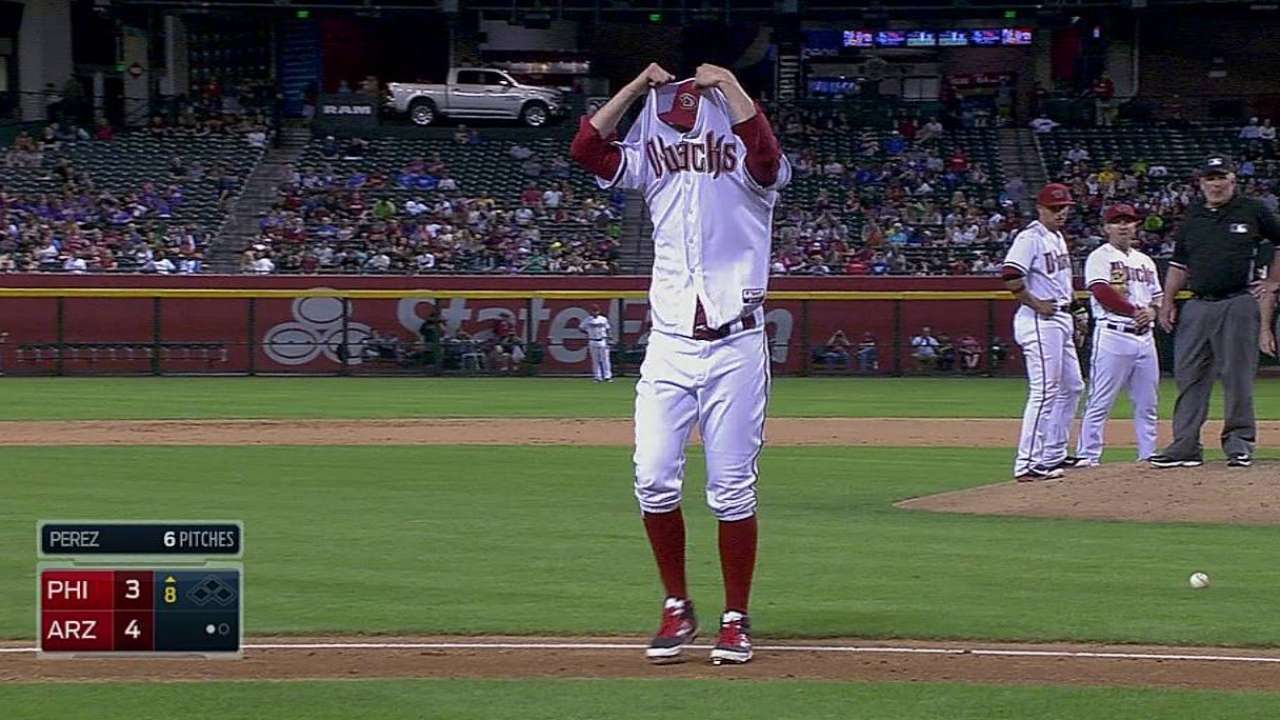 PHOENIX -- Phillies third-base coach Larry Bowa said on Sunday that he had nothing to do with his club complaining to the umpires on Friday night about the slits in the long-sleeve undergarment worn in that game by D-backs reliever Oliver Perez. Perez was told to take off the shirt.
"It was a player," Bowa said unsolicited. "I can't even see that far."
When told that it was D-backs manager Kirk Gibson who implied it might have been Bowa, who alerted Phillies manager Ryne Sandberg about the possible uniform violation, Bowa added:
"Well, you go back and tell him I didn't do it."
Bowa then went out on the field during batting practice and told Gibson himself.
"I didn't say it was Bowa," Gibson said good-naturedly in bringing the subject up unprompted during Sunday's pregame media conference. "You told him I said it."
What Gibson said on Friday night was this:
"[The umpire] said that one sleeve was longer than the other and he had a little tear in it. There was nothing we could do about it. The rule says it's supposed to be the same length, the same color. And it can't be flapping. I have a pretty good idea whose call that was in the other dugout and it wasn't Sandberg."
When asked if he was talking about "Pee Wee," Bowa's nickname, Gibson responded: "You figure it out!"
Bowa read the comment and apparently took exception.
Phillies outfielder Tony Gwynn Jr. corroborated that Bowa had nothing to do with it.
"It was definitely a player," Gwynn said. "I'm not going to tell you who it was, but he noticed it during batting practice. We just weren't sure if we were going to use it."
Perez was brought in to open the eighth inning of the eventual 5-4 D-backs win and face lefty hitters Chase Utley and Ryan Howard. After Utley flied out, Sandberg came out of the dugout to complain to plate umpire Mark Wegner.
The four umpires met and Wegner told Perez to remove the shirt, which had slits in each sleeve. On the way to the dugout, he dropped the ball, flipped his glove to the ground and began disrobing, returning to pitch without a shirt beneath his white D-backs jersey.
Howard singled and Perez was removed from the game for right-hander Brad Ziegler.
Gibson was told on Sunday that a lot of media members thought he was talking about Bowa.
"I never said anything about Bowa, but Larry has a good reputation, I admit it," Gibson said. "Could we be done?"
Barry M. Bloom is a national reporter for MLB.com and writes an MLBlog, Boomskie on Baseball. Follow @boomskie on Twitter. This story was not subject to the approval of Major League Baseball or its clubs.