Elbow strain sends Arroyo to DL for first time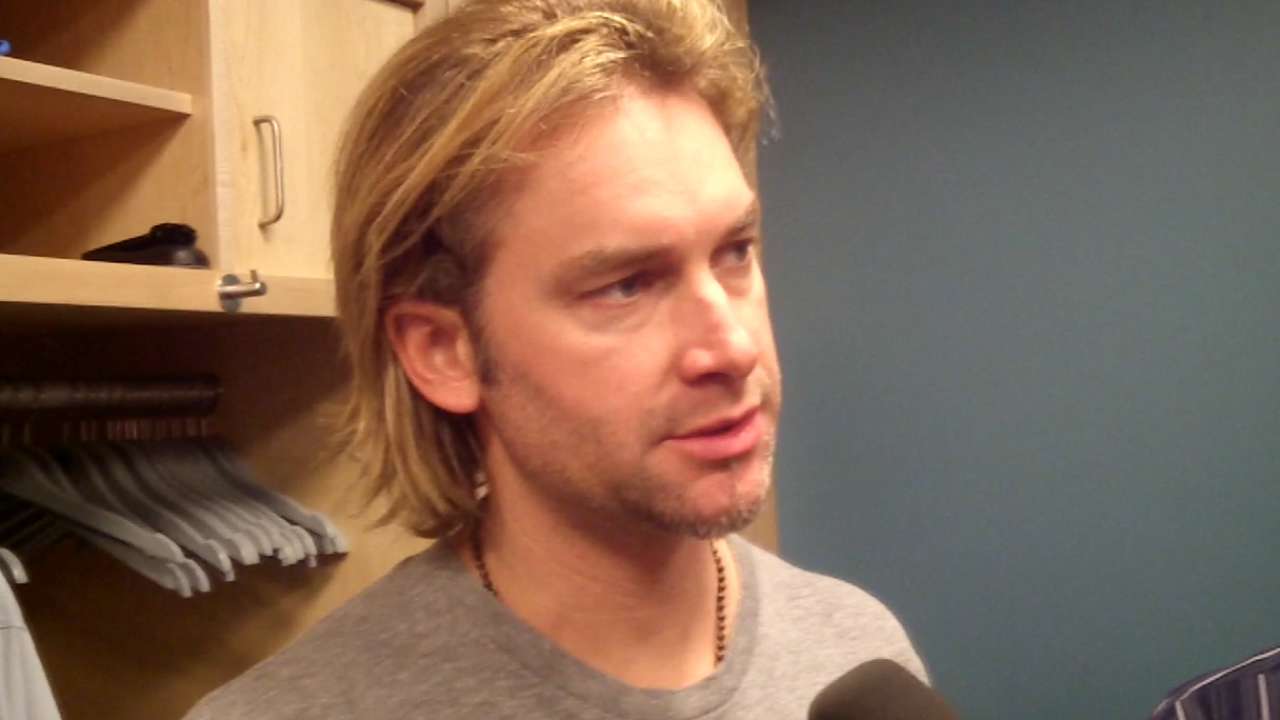 PHOENIX -- For the first time in his 15-year career, Bronson Arroyo is headed to the disabled list.
The D-backs on Monday placed the 37-year-old right-hander on the 15-day DL with a strained UCL in his right elbow and called up outfielder Roger Kieschnick from Triple-A Reno to replace him on the roster.
"I've been beat up for a while," Arroyo said. "I've pitched the last six times pretty miserable out there, just trying to make it happen with a bit of guts and some mental ability.
"It's the first time I'm going to be shut down. We're going to take 10 days, not touch a ball, see how the arm reacts."
When asked if Tommy John surgery was a possibility, Arroyo said he didn't know.
"We're going to try to get all the swelling out, let it calm down completely and not irritate it for 10 days," he said. "Then probably give it another 10 to 15 to 20 days to try to fire it back up and see if it acts differently. And if it acts the same, then we're going to have to try something different."
Arroyo said there was inflammation in the elbow and that he should know if he's ready to pitch by the All-Star break, at the latest.
In the meantime, general manager Kevin Towers said that the team has somebody planned to take Arroyo's spot in the rotation and will make that announcement in the next day or two.
Arroyo has prided himself on his durability throughout his career.
"I looked at the numbers last night for the first time, and with my Minor League starts, I think I've thrown 546 times, and this is the first time I've had to miss one since 1995," Arroyo said. "I've been avoiding this day for two decades."
Arroyo picked up the win on Sunday after pitching five innings against the Dodgers. He said after the game that he didn't have nearly his best stuff, but despite that, he gave up only one run.
"I think the last three times he's went out there, he's been at about 50 percent," Towers said. "It's pretty amazing that he's posted the type of numbers [he has].
Said manager Kirk Gibson: "In the first inning, he barely could hit 80 mph. His elbow was really hurting him."
Arroyo has been one of the D-backs' most consistent starters this season. He is 7-4 with a 4.08 ERA -- the second lowest on the team among pitchers with more than 50 innings pitched.
"I would have hoped to make it to the end of my career without having to do it," Arroyo said. "But it's just not the way it is."
Adam Lichtenstein is an associate reporter for MLB.com. Teddy Cahill is a reporter for MLB.com. Follow him on Twitter at @tedcahill. This story was not subject to the approval of Major League Baseball or its clubs.