Toussaint introduced to Chase Field, D-backs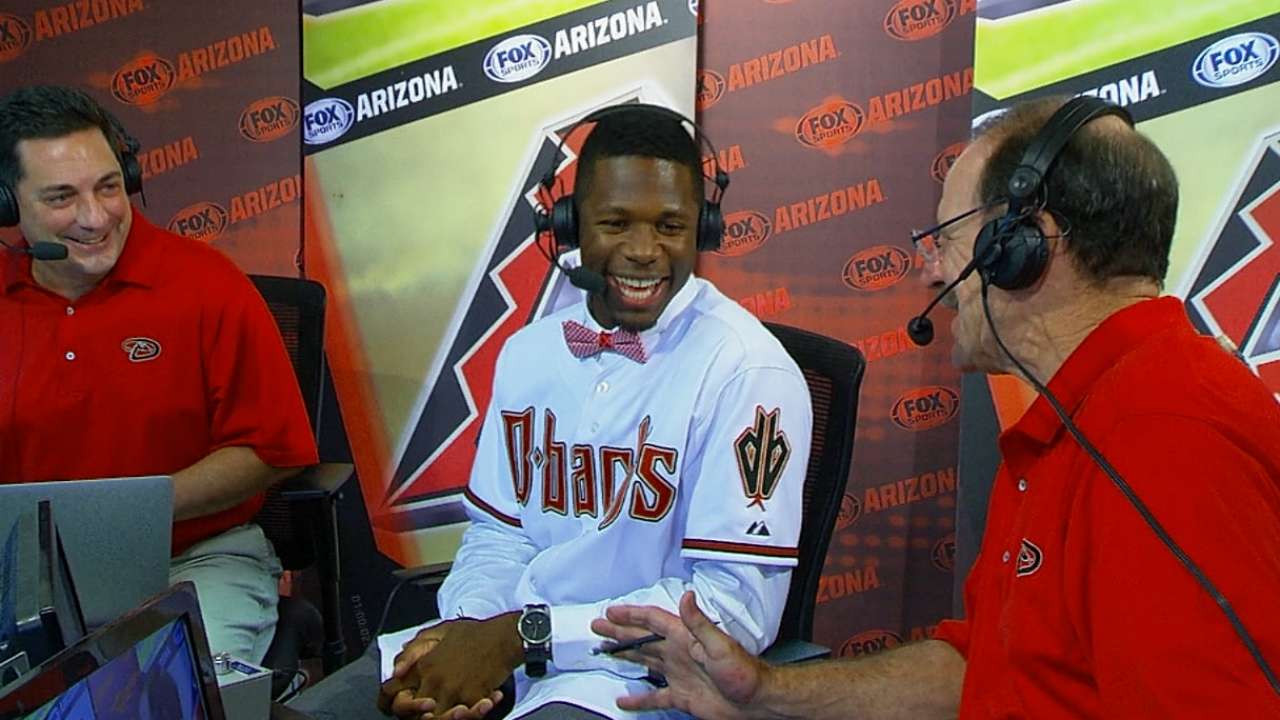 PHOENIX -- While scouting another player in Miami a couple of years ago, D-backs area scout Frankie Thon and his supervisor, Greg Lonigro, noticed a sophomore shortstop on the other team by the name of Touki Toussaint.
"Not a great hitter," Thon recalled. "Good defender, good athlete and then he actually gets on the mound the last inning. Just him warming up, a couple of pitches into it, we kind of looked at each other like, wow. We said we're going to be back to see him in a couple of years. He's going to be special."
Two years later, the D-backs selected Toussaint with their first pick (16th overall) in the 2014 First-Year Player Draft, and Saturday, they officially announced his signing.
Terms of the deal were not released, but he signed for above the $2,338,200 figure the pick was slotted at.
Toussaint weighed a scholarship offer from Vanderbilt University before deciding to turn pro.
"It was really tough," he said. "Very, very tough. I respect my mom and my grandma and they want me to go to school, but I'm going to get my education after I finish playing."
Toussaint got a tour of Chase Field and met D-backs players.
"It's beautiful," he said. "It's the best place I've been. I live in Miami; I've been in [Marlins Park]. It's nothing close to this."
When asked what uniform number he wanted, Toussaint chose No. 20 but was informed that it's retired in honor of Luis Gonzalez. His next choice was 23, but that belongs to manager Kirk Gibson, so instead he held up a No. 21 jersey at his press conference.
When he first started playing baseball, Toussaint said he modeled his game after Jackie Robinson, but once he switched to the mound, he had different idols.
"I try to pitch like Pedro Martinez and Jose Fernandez because they have that fire and I love it," he said. "You're supposed to have fun and they have fun and they know how to compete."
Toussaint, who turned 18 on Friday, will begin his pro career in the Rookie-level Arizona League.
"We'd like to get him comfortable, get him acclimated," D-backs scouting director Ray Montgomery said. "Just get him to understand how we do things, what the daily grind is and how to go about being on his own."
Steve Gilbert is a reporter for MLB.com. Read his blog, Inside the D-backs, and follow him on Twitter @SteveGilbertMLB. This story was not subject to the approval of Major League Baseball or its clubs.