Garagiola praises O'Neil in accepting honor from Hall
Former player, broadcaster honored for charitable work and love of baseball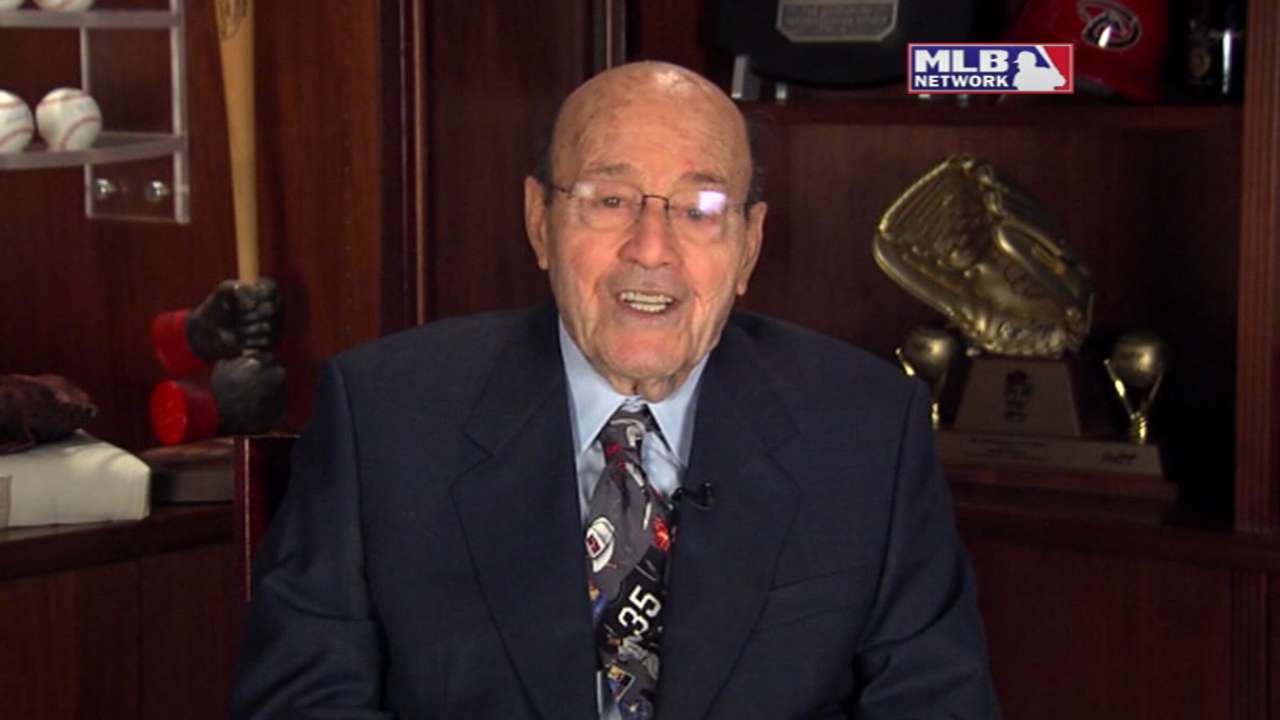 COOPERSTOWN, N.Y. -- Joe Garagiola Sr. has always had a delightful sense of humor about his place in the game, even in serious moments. And so it was no surprise that Garagiola kept the crowd laughing Saturday, when he received the Buck O'Neil Lifetime Achievement Award in absentia.
Garagiola, just the third recipient of the award after O'Neil and Arizona executive Roland Hemond, could not travel to be part of the National Baseball Hall of Fame's proceedings at Doubleday Field. The 88-year-old has endured a rough year in the health department, and he explained his absence in a charming video message.
"Some of you may be wondering why I'm not with you today," said Garagiola as part of his video message. "I had a double-hip [operation], I suffered a stroke on October 2nd, and a heart attack on December 23rd. It was a tough Christmas. When I asked my doctors about coming to Cooperstown, they sounded like a chorus. They said, 'Joe, you aren't strong enough yet.' I was disappointed. I still am. My family's disappointed. But I really appreciate this honor more than you know."
Garagiola, one of baseball's great personalities for more than four decades, was being honored for the character he showed away from the diamond. The former player, author and broadcaster was lauded for his contributions to the well-being and potential future health of his fellow big league peers.
Garagiola, among other endeavors, helped found the Baseball Assistance Team, which seeks to help former players and coaches who are in need of financial assistance. And years ago, before it was a popular cause celebre, Garagiola started advocating for a ban of smokeless tobacco.
That ambition has intensified following the recent death of Hall of Famer Tony Gwynn, who traced his fatal salivary gland cancer to his rampant use of smokeless tobacco. Garagiola's initiative, the National Spit Tobacco Education Program, has talked about the danger of tobacco for 20 years.
Garagiola, a former catcher and the author of "Baseball Is a Funny Game," is no novice to the Hall of Fame. He was honored for his decades of broadcasting work in 1991, when he won the Ford C. Frick Award, and his video message on Saturday celebrated the game's greatest players.
"The Hall of Fame is the magic phrase," said Garagiola in deference to the many Hall of Famers in attendance at Doubleday Field. "It's what a player wants next to his name once he gets to the big leagues. And baseball gives you the chance. You do it. They give you the bat, the ball, and it's up to you. As you look at these Hall of Famers, you can say, 'You did it, and this is your weekend.'"
Much of Garagiola's charm has always been self-deprecating, but he's accomplished so many things in the game. Garagiola played nine years in the Majors and batted .316 in the Cardinals' 1946 World Series triumph over the Red Sox, but he's always judged his career next to his neighbor's.
Garagiola grew up on the same street as Yogi Berra in St. Louis, and he has always used the latter player's sterling success as a punchline for his own career. Berra famously won 10 World Series titles with the Yankees and was named to the Hall of Fame, and Garagiola can appreciate his success.
"Most players don't make it," he said of Cooperstown. "Most of these players were either All-City, All-State, All-World, All-Everything. And then they went to the big leagues and had great years. Then there are players like me. I was scouted! I really was. ... I thought about the Hall of Fame, but the decision was made early for me. See, I grew up in an Italian neighborhood, and I lived across the street from a guy named Yogi Berra. I really wasn't even the best player on my block. When I saw the way these great players hit and pitched, I knew the only way I could get into the Hall of Fame was to buy a ticket."
The O'Neil Award is named for the late Buck O'Neil, one of the greatest ambassadors the game. The award can only be given out every three years, and it is distributed to an awardee who enhances baseball's image in society and who tirelessly works to broaden the game's appeal.
Unlike some other Hall of Fame awards, the O'Neil Award is chosen by the museum's board of directors, and Jane Forbes Clark, the chairman of the Hall of Fame, spoke of Garagiola's qualifications. For years, she said, the Missouri native has ardently worked to improve the life of his peers.
"Today, the board of directors of the Hall of Fame is recognizing Joe's character, integrity and dignity," said Clark. "He gained national fame as a broadcaster who went beyond baseball to use his celebrity platform to make a real difference for others. When you stop to think how many lives this man has touched during his lifetime commitment to baseball, you begin to realize how Joe truly exemplifes those traits that made Buck O'Neil such a revered figure in our nation's history. The board's decision to award Joe with this prestigious honor recognizes the profound impact he has had on the game."
O'Neil, a former Negro Leagues star, gained fame for his encylopedic knowledge of baseball and for his enthusiastic and effusive lifelong love affair with the game. He helped to perpetuate the story of the Negro Leagues players, and he worked to help them gain their proper recognition in life.
And that's where his path crossed Garagiola's in the most profound way. The pair would work together to improve the living conditions of countless former baseball players, and Garagiola said that O'Neil was an incredible resource who inspired him to work even harder on his peers' behalf.
"I wanted to be in Cooperstown, especially because of the friendship that had developed between Buck O'Neil and me," he said. "Buck always worried about the other guy. Working together with him, I was on the Baseball Assistance Team, and Buck would give me the information. Buck knew everyone in the Negro Leagues and their problems. ... More importantly than that, Buck made you feel like you were his best friend. His laughter was contagious, and he just made you feel good. So I thank the board of directors from the bottom of my heart for this honor, and I thank God for Buck O'Neil."
Spencer Fordin is a reporter for MLB.com This story was not subject to the approval of Major League Baseball or its clubs.