Montero confused by home-plate collision rule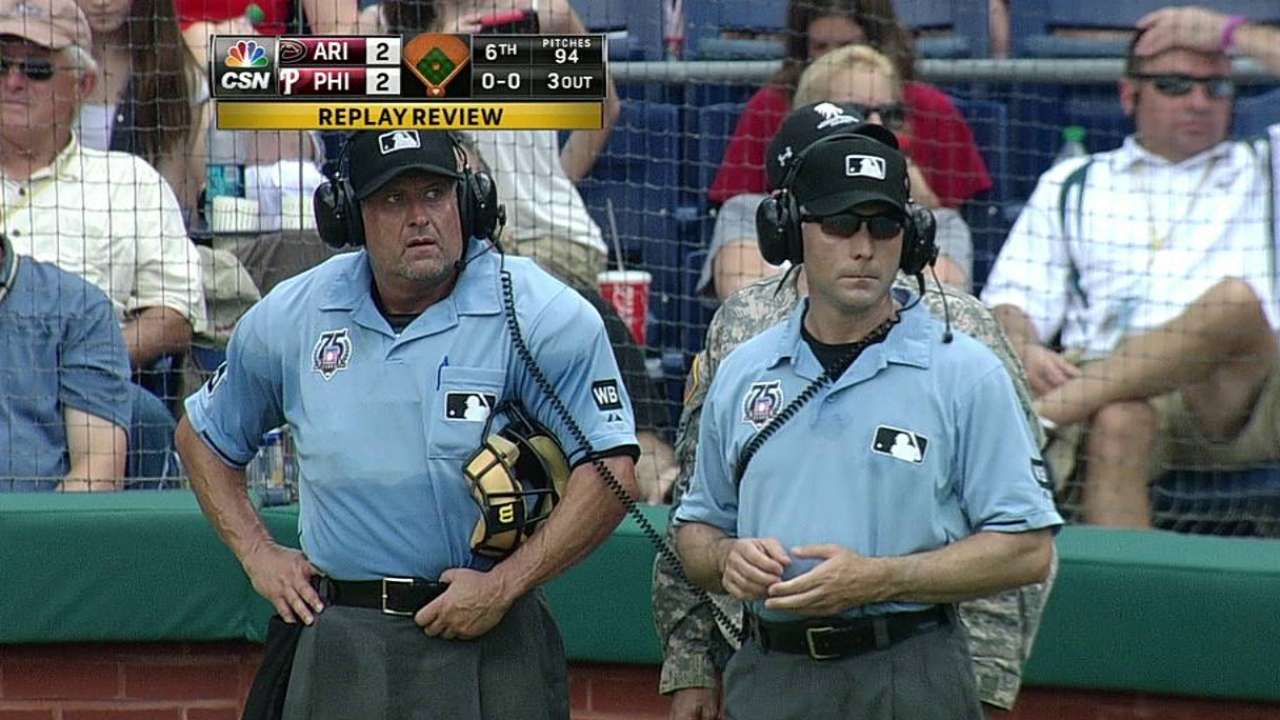 PHILADELPHIA -- Nearly 25 minutes after Sunday's 4-2 loss to the Phillies had ended, D-backs catcher Miguel Montero was still upset.
At issue was a play at home in the sixth inning when the throw easily beat Ryan Howard to the plate and he was called out, but after a replay review, it was ruled that Howard was safe because Montero violated rule 7.13, which was instituted this year to reduce the number of collisions at home plate.
"They make things so difficult with that new rule," Montero said. "The game's been 100 years with that old rule, catchers have been getting run over for years. Now is the point where we needed a change? What for? I guess that's what catching is made up for. I'd much rather get killed. Seriously, I'd much rather be run over. Come get me."
After the play, Montero was seen talking to home-plate umpire Dale Scott.
"They called I was blocking the plate," Montero said. "So I asked him what I should do in the future, because I don't want this to happen again. What should I do? They honestly didn't have an answer. They didn't know what to say. I would say the Major Leagues need to clean that up and figure out that rule and what it's going to be about, because the last time we got the same play and they called him out and the guy was blocking the plate. Exactly the same play."
D-backs manager Kirk Gibson came out onto the field to talk to Scott after the play was overturned to ask him for an explanation.
"Something needs to be more consistent," Gibson said. "I don't think they got the play right."
The next inning, there was again a play at the plate and Montero positioned himself in front of the plate and to the side. The throw skipped and bounced off him allowing the runner to score.
Montero said that while it did not cause him to miss the ball, he was trying to be extra-conscious of where he was standing.
"Obviously I have no clue where to go," Montero said. "The next inning, we got another play and I'm like, 'OK, am I blocking the plate? Should I be worried to catch the ball? Should I be worried to block the plate? Should I be worried to not block the plate?'
"It's an awkward, awkward rule. Leave the game alone, man. Don't try to change so many things. The game's been for years like that and it's been fun and nobody's been complaining about it. Next thing you know, we've got instant replay, we've got not blocking the plate, all that kind of stuff. It's kind of not fun anymore."
Steve Gilbert is a reporter for MLB.com. Read his blog, Inside the D-backs, and follow him on Twitter @SteveGilbertMLB. This story was not subject to the approval of Major League Baseball or its clubs.