Schultz perfect in relief after callup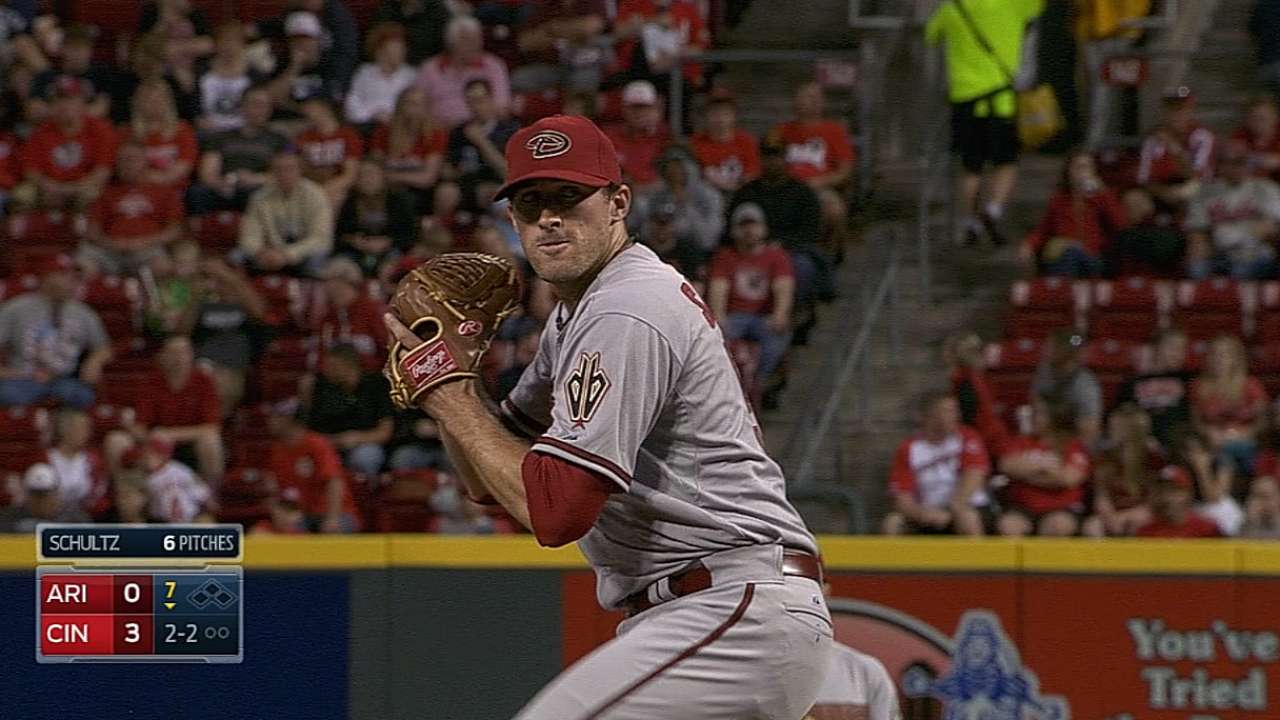 CINCINNATI -- The Triple-A Reno Aces had just finished wrapping up a win and manager Phil Nevin was making the rounds in the clubhouse Monday night, talking quietly with a few players about the game.
"And on his way out he just kind of said over his shoulder, 'By the way, Bo Schultz is going to the big leagues,'" Schultz said. "I was kind of thrown off, kind of gave him a sideways look like, 'Are you sure?'"
Indeed, Nevin was sure. The D-backs promoted Schultz to help their overworked bullpen while demoting outfielder Alfredo Marte.
Over the last five days, the starting rotation has turned in a few short outings. And on top of that, the D-backs played a 15-inning game against the Reds on Monday night, further taxing the bullpen.
Schultz gave the bullpen a rest on his first day on the job when he threw the final two innings of Tuesday night's 3-0 loss to the Reds in relief of starter Trevor Cahill.

Schultz's ability to pitch multiple innings and his experience pitching in relief before were factors in the decision to promote him.

On Tuesday, he did not allow a hit or walk and struck out two.

"Bo was pretty good, he was pretty impressive," catcher Miguel Montero said. "He threw the ball well, he hit his spots pretty good, he was under control. He's got a good explosive fastball with some heaviness to it."
Technically, this is Schultz's second stint in the big leagues as he was on the team's roster for the two games the Reds played in Sydney, Australia against the Dodgers to open the regular season March 22-23. The 28-year-old, who bounced around the independent league before being signed by the D-backs, even appeared in one of those games.
Still, this trip to the big leagues feels a lot different than the first when he was on the roster because the team was allowed to carry 29 players for that opening series.
"I would say it feels a little more real," Schultz said. "I'm not confused or jaded by the fact that Australia was kind of a roster exemption kind of thing where it created an extra hole. This seems more real. This seems more like an official first game, or first day."
Steve Gilbert is a reporter for MLB.com. Read his blog, Inside the D-backs, and follow him on Twitter @dbackswriter. This story was not subject to the approval of Major League Baseball or its clubs.