Chafin shines in Major League debut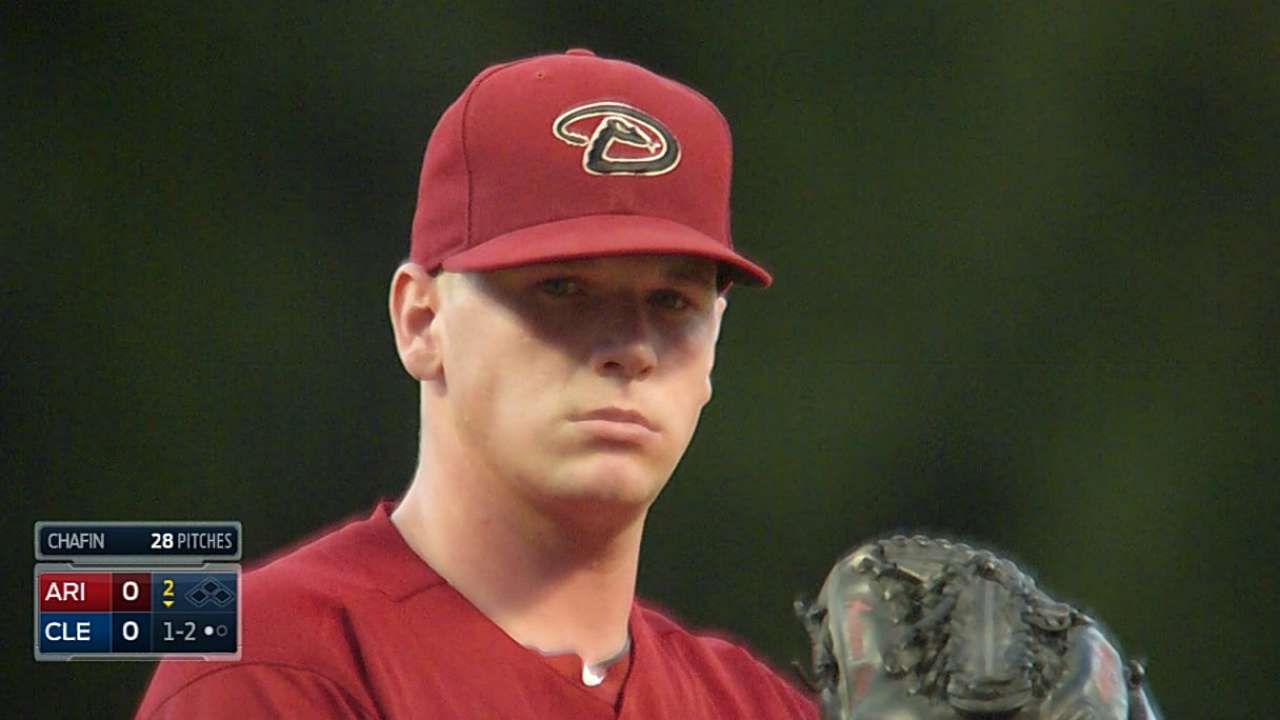 CLEVELAND -- Andrew Chafin felt surprisingly calm leading up to his start for the D-backs on Wednesday night.
But this was his debut, and it was going to be in front of all his friends and family. It wasn't until his last warmup pitch that it finally sank in.
He was about to take the mound as a starting pitcher in the Majors for the first time.
"My heart started really beating," Chafin said. "That was the first time I was like ... I don't want to say overwhelmed by any means, but just really excited. Then as soon as I threw that first pitch, it was back to normal."
And apparently, normal for Chafin involves having the mound presence of a wily veteran. The left-hander, who grew up 45 minutes west of Cleveland and attended nearby Kent State University, threw five scoreless innings, giving up just three hits and striking out three. He induced 10 groundouts, including a double play to end the fifth.
"I went out and threw my game," said Chafin, who took a no-decision in the D-backs' 1-0, 12-inning win over the Indians in the second game of a doubleheader. "It was a great outing. I just need to work on my pitch count a little bit, but other than that, it just showed I can get out of jams and was able to stay competitive in tough situations."
Catcher Tuffy Gosewisch, who drove home the winning run, was impressed with what he saw.
"I thought he threw a heck of a game and located pretty well," Gosewisch said. "Pitched inside really well is what I was impressed with. Went inside to both lefties and righties. Got guys a little bit uncomfortable and made pitches when he had to."
Though Chafin feels he proved he belongs in the bigs, the D-backs -- needing fresh arms after the 21-inning marathon doubleheader -- optioned him back to Triple-A Reno.
"He battled, he made the pitches when he had to and overall [had] a really good performance. He got a taste," manager Kirk Gibson said. "It's kind of a bad deal. He did a good job, but he'll probably be back for us in September."
Gosewisch is sure Chafin will thrive in whatever role he's given when he does return.
"If we have five starters already, then he'd be a great long guy. Or a good guy out of the bullpen versus lefties and righties," Gosewisch said. "If we have an opening, he's going to be a good starter. He's got good stuff, he's got three good pitches, command, and he's got the right attitude. He means business when he's on the mound, and he's a pretty good bulldog."
Chafin understands the D-backs' need to send him back to Triple-A. But he has his first start under his belt, and he's ready for more whenever his name is called.
For now he'll just continue to enjoy the moment.
"I was looking on my Facebook a little bit ago, and everybody from high school was like, 'Oh, we went to the game today,'" Chafin said. "I think they were more excited than I was about it.
"Just glad I was able to make my debut up here in front of all my friends and family."
Steve DiMatteo is a contributor to MLB.com. This story was not subject to the approval of Major League Baseball or its clubs.