D-backs happy to get reacquainted with Williams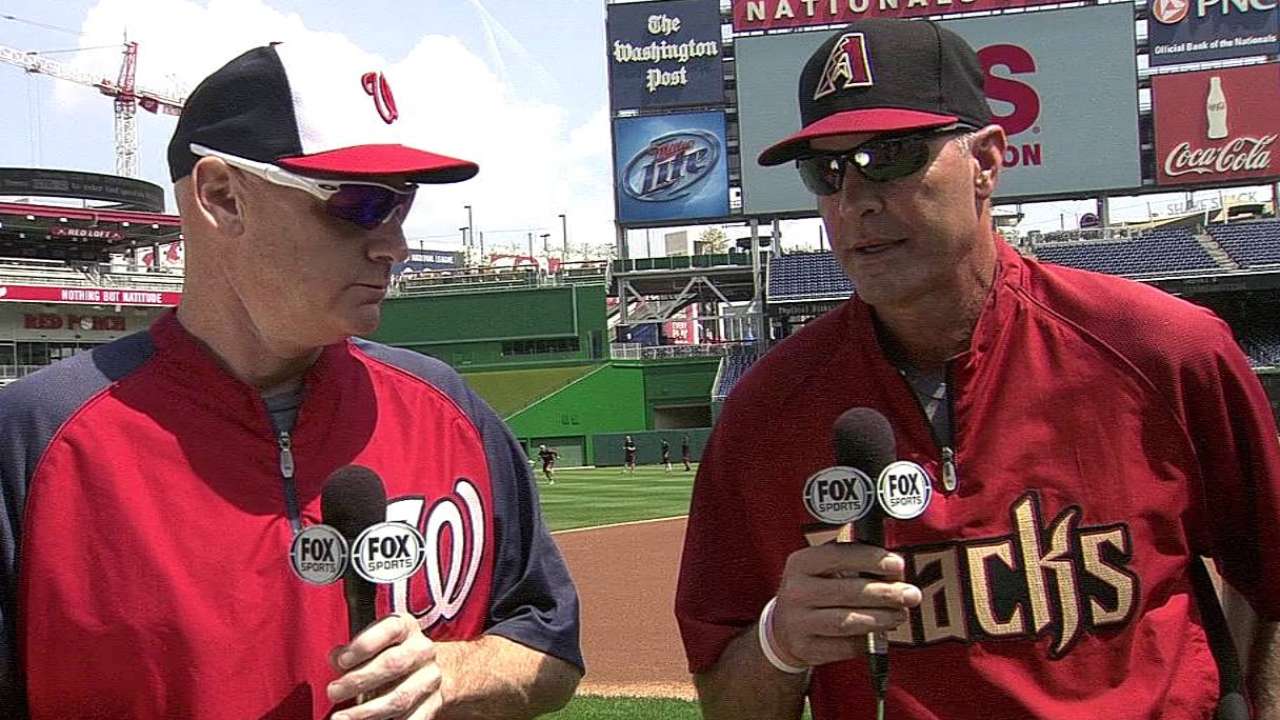 WASHINGTON -- When the D-backs made their way onto the field at Nationals Park for early batting practice Monday, there was a familiar face out there waiting for them.
Nationals manager Matt Williams, who coached for the D-backs from 2010-13 and before that was a player for them, as well as a minority investor in the team, wanted to make sure he greeted his old friends.
One of the D-backs who has missed Williams' presence the most is veteran second baseman Aaron Hill.
"I ran everything by him," Hill said of his relationship with Williams in Arizona. "Just about hitting and defense, I mean, he liked talking baseball. That's always fun."
The Nationals entered play Thursday with the best record in the National League at 72-53.
Gibson, who promoted Williams from first-base coach to third-base coach during his time as manager, participated in a joint interview with him for the D-backs pregame show Thursday.
"Matty is a new manager, new staff, they're just starting to gel," Gibson said. "Very strong club. They had a very good year last year. Continue to build off of that. They have a real opportunity ahead of them."
During his time as a player, Williams was known for his intensity, but as a coach and now manager, he has learned to temper it when needed.
"He's just such a welcoming person for everybody," Hill said. "Always got a smile, always positive, he's energetic, so it attracts good people and positiveness, so he's always fun to be around."
Gibson laughed when a reporter mentioned how relaxed Williams looked as a manager.
"When you win more games, it's much easier to relax," Gibson said. "I can tell you that from experience."
Steve Gilbert is a reporter for MLB.com. Read his blog, Inside the D-backs, and follow him on Twitter @SteveGilbertMLB. This story was not subject to the approval of Major League Baseball or its clubs.