Owings will get time at second when he returns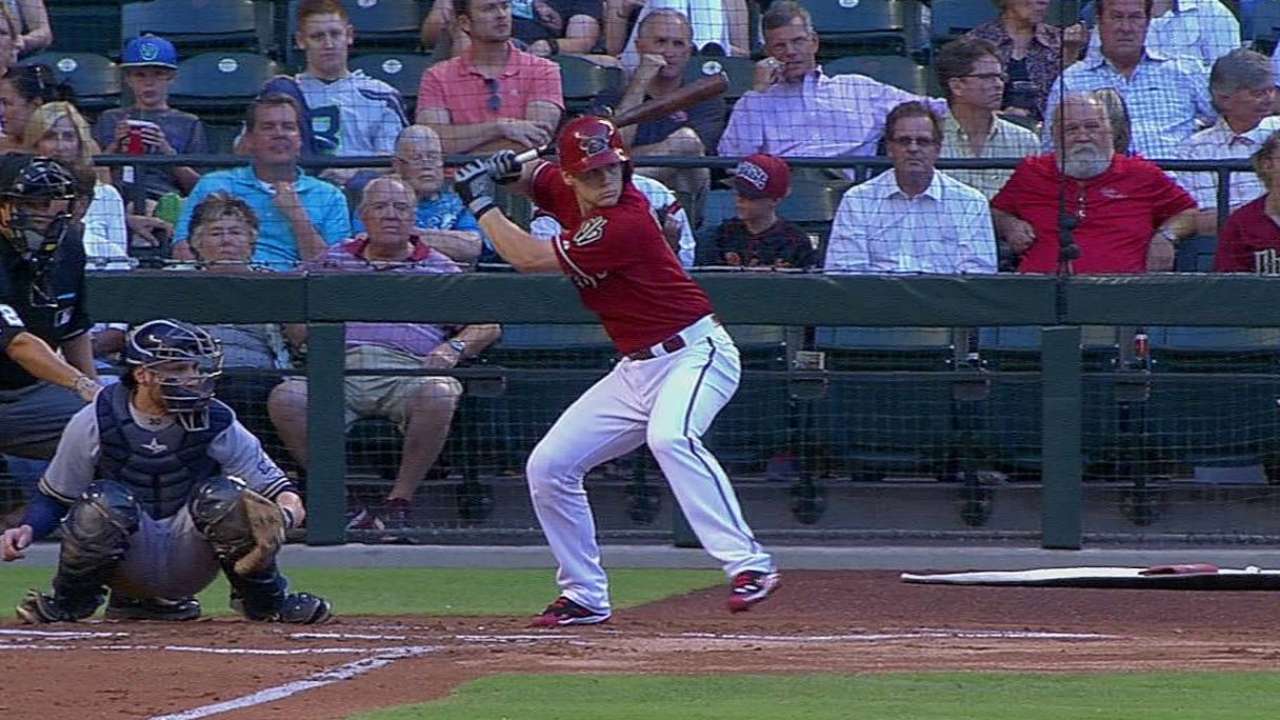 PHOENIX -- If it's possible for any team to have too much middle-infield depth, then the D-backs may be that team.
The last two seasons have hosted the coming-out parties for shortstops Didi Gregorius and Chris Owings, and both young infielders have shown flashes that indicate they could hold down the position in years to come.
Behind the two of them is Nick Ahmed, who made a name for himself by batting down a potential double-play throw to first to clinch a walk-off win for the D-backs on Aug. 3.
With veteran Aaron Hill signed through 2016 and rookie Jake Lamb getting an opportunity to prove himself at third base and Cliff Pennington performing well in a reserve role, that may leave only one open spot for the three players to fight over -- if all those players return.
"We do have a lot of talent there," manager Kirk Gibson said. "I don't know how [general manager Kevin Towers] will do that. … Every team changes every year. Some people are going to be gone, some people are going to be back and there will new additions to every team. I don't know out of our pool of guys who that will be."
So how do you divvy up playing time until then?
Right now, it's easy for Gibson. Owings has been on the disabled list since June 29 with a left shoulder injury, and Ahmed is at Triple-A Reno after a cup of coffee in the Majors. Gibson can pencil Gregorius into the lineup at shortstop nearly every day.
But Owings is currently on a rehab assignment with Reno and could be back with the D-backs shortly. Gibson's plan when the rookie shortstop returns is give him a shot at second base, where he played in Spring Training and where they'll give him some time on his rehab trip. He has played only 30 Major League innings at the position in his short career.
"I know he can play short," Gibson said. "So we have some games left here in the last month, why not put him over there at second?"
Barring any lingering effects from his shoulder injury, Owings looks like the surest bet to be the front-runner for the D-backs' starter at shortstop in 2015. Despite having missed nearly two months, he is fourth on the D-backs in WAR (wins above replacement), according to Fangraphs.com.
Gregorius, on the other hand, has showed off a slick glove, but has struggled at the plate. Through 52 games this season, he has a .213/.296/.362 slash line.
"Those things will work themselves out," Gibson said. "We're not really [talking about] position players very much."
Adam Lichtenstein is an associate reporter for MLB.com. This story was not subject to the approval of Major League Baseball or its clubs.