Even injured, Goldy finding ways to contribute
First baseman talks to teammates about opposing pitchers, helps during BP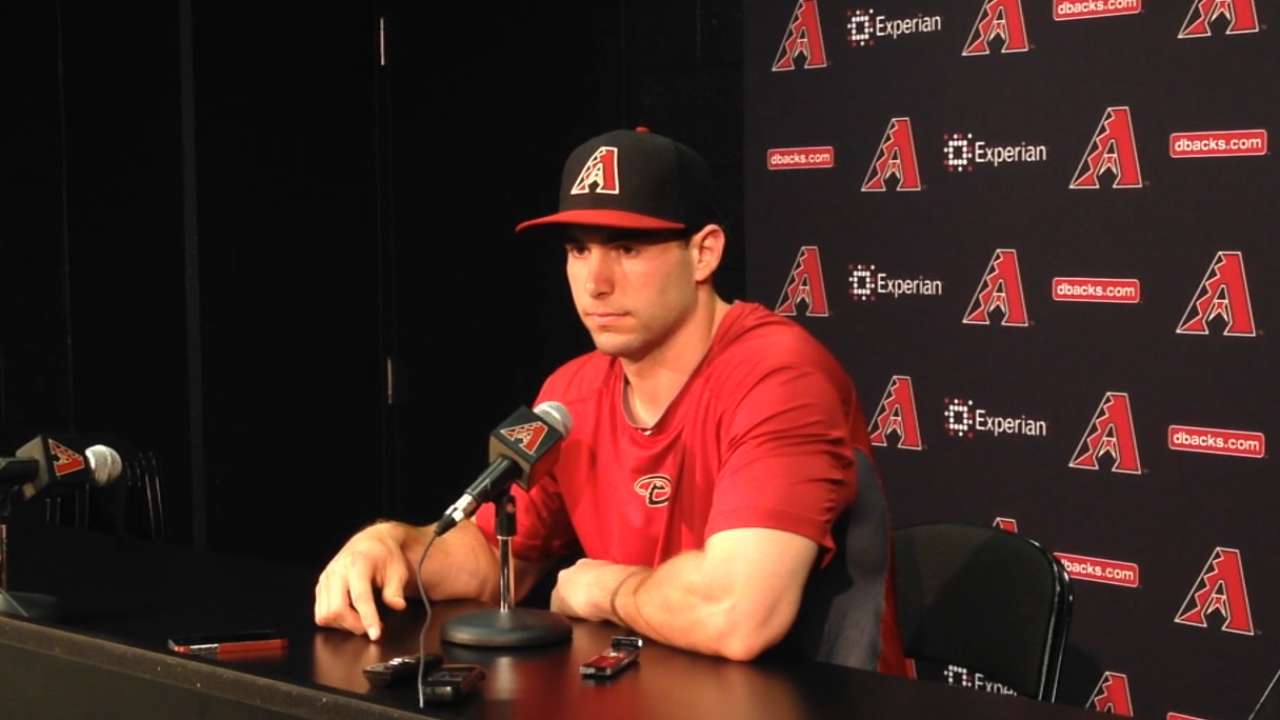 PHOENIX -- D-backs first baseman Paul Goldschmidt saw his season come to a crashing halt on Aug. 1 when he was struck in the left hand by an Ernesto Frieri fastball.
A recent X-ray showed that the fractured hand is healing, but Goldschmidt won't be able to play in games until next season, and it will be another few weeks before he's even able to start strengthening exercises.
The injury has kept Goldschmidt off the field, but he has been determined to find ways to help his teammates. Whether it's sharing tips on playing first base, standing behind the cage during batting practice, or even feeding baseballs to coaches hitting early grounders to his teammates, he has done what he can to contribute.
Recently, Goldschmidt sat down with MLB.com to discuss how he's dealt with his injury and rehabilitation.
MLB.com: How difficult has it been for you to not be able to play?
Goldschmidt: It's just different. Sure, you'd rather be playing, but it's just part of it. Things happen, so I'm not going to feel sorry for myself. I'm just going to come in every day and do what I can do to help. If I do that to the best of my ability, that's all you can really do.
MLB.com: Is this the first time you've ever been hurt and had to miss a significant period of time?
Goldschmidt: Yes. It is what it is. I mean, there are some workouts that I can do even with the injury, so I come in and try to get after those. Then I watch the game and see if there might be something I could notice, or help or talk to guys about, and I do that. Otherwise, I stay out of the way and let them play.
MLB.com: You seem to be even busier pregame since you've been hurt. Why is that?
Goldschmidt: I don't know if I'm busier; it's just different. I want to be around the cage for batting practice and in the dugout for the game. I don't want to have to do any of my rehab stuff at those times, so I try to get it all done before batting practice. Instead of preparing for the game, I'm just going through my checklist for the rehab stuff I have to do every day, where before I was just preparing for the game every night.
MLB.com: It seems like you're behind the batting cage with [hitting coach Turner Ward] every day. Are you just observing? Or are you also helping guys?
Goldschmidt: I'd rather be doing that than sitting in the locker room. So I just come out and talk to guys. Sometimes it's non-baseball stuff, sometimes it's baseball. I can still learn, so I talk hitting approaches, still talking starting pitchers and their bullpen. I'll probably see a lot of these guys next year, so during the game, I might pick up stuff, or maybe these guys see something that I haven't. Or maybe I've had more history with a pitcher and I can share something with them about him. Guys are always sharing information, and I can still do that, even if I can't go out there and play.
When I was playing and [Cliff] Pennington was hurt, I was still talking to him on a daily basis during games. He knows a lot of the pitchers and we know each other's approaches and swings, so it was nice to be able to bounce ideas off people. So I'm here for that. Not necessarily saying that it's happening with every guy or that it needs to, but I try to be here to support the guys, even if it's just literally standing there behind the cage.
MLB.com: So during the games, you're just talking baseball and different pitchers?
Goldschmidt: Yeah, sometimes, like I said, it can be, "I've faced this guy and this is what he did to me." Other times, it's just watching the game. I'm not as locked in as when I'm playing, but especially when it comes to teams in our division, or teams in the National League, or maybe guys I haven't faced, I'm paying attention, so maybe I'll pick something up that I can use for next year. That way I'm not just wasting time where I'm just sitting here for three hours just watching the game. I may not be able to pick up anything, but I may find something for next year that could help.
MLB.com: You haven't gone on any of the road trips since you've been hurt. Do you miss being around the guys when they're on the road?
Goldschmidt: It's more fun to be with them, but it's just something you have to adjust to. I go to Salt River [Fields] every day to get my workouts in, so I don't want to sound like I'm complaining about not being on the road. I would just definitely rather be playing, but it is what it is.
Steve Gilbert is a reporter for MLB.com. Read his blog, Inside the D-backs, and follow him on Twitter @SteveGilbertMLB. This story was not subject to the approval of Major League Baseball or its clubs.