Hudson completes comeback from two TJ surgeries
Teammates share in remarkable moment with right-hander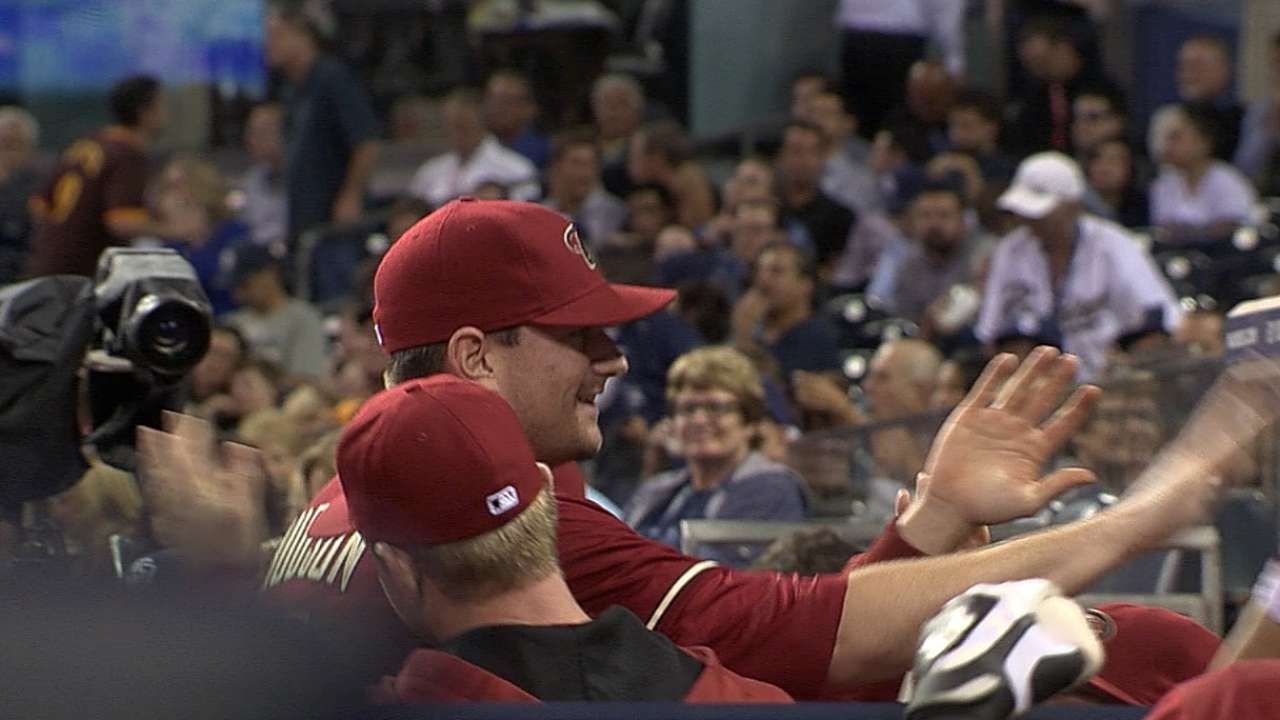 SAN DIEGO -- After 799 days and two Tommy John surgeries, D-backs right-hander Daniel Hudson finally got to pitch in another big league game Wednesday night.
Hudson, who last pitched in the Majors on June 26, 2012 in Atlanta, fought back his emotions as he tossed a perfect eighth inning against the Padres.
"I wish I could have more words for you guys, but I'm really kind of at a loss," Hudson said. "It was just a lot of different emotions and I wish I could explain them all, but I just really can't."
Hudson tore his ulnar collateral ligament that day in Atlanta and a little more than one year after that -- when he was a mere week or so away from returning to the big leagues -- he retore the ligament during a rehab game.
A second Tommy John surgery and an even longer rehab period led to Wednesday night.
"It was," Hudson said when asked if all the rehab was worth it. "Even if I go out tomorrow and it blows again playing catch, it was worth it just to try again. It's been a long road and thankfully today came."
Hudson was asked what he was thinking as he jogged in from the bullpen to start the eighth.
"I hadn't done this in a long time and it's a lot farther than I remember," he joked. "Again, I don't really know what I was thinking, I was thinking so many different things. 'Just please let this go better than the last time,' and I'm thankful it did."
After he completed his warmup tosses, Hudson looked into the crowd hoping to spot his wife, Sara, and his parents.
"Then I realized a guy's coming in the box, I had to get on the mound," Hudson said.
Typically a catcher will visit the mound when a reliever comes into a game, but Miguel Montero stayed behind home plate.
"There was a lot of emotion," Montero said. "I didn't even feel like I could look him in the eyes because I probably would have cried. I know all that he's been through and how hard he fought to come back and be here and do what he did today."
RIP my mentions. So many emotions. So much fun. Thank you guys for sticking with me the last two plus years. I'm tearing up typing this

- Daniel Hudson (@DHuddy41) September 4, 2014
Hudson's first pitch was a 94 mph fastball and he hit 96 during the inning while throwing 13 pitches, nine for strikes.
After he got pinch-hitter Abraham Almonte to ground out, his teammates in the dugout cheered wildly and signaled for the baseball, which Hudson will no doubt hang on to as a treasured keepsake.
At the conclusion of the inning he was greeted in the dugout with hugs from teammates, who had a hard time keeping their emotions in check. That included Wednesday night's starting pitcher, Josh Collmenter, who stuck around after being taken out, to share in the moment.
"It was tremendous watching him," Collmenter said. "We've been watching him for the last couple of years go through the rehab and get so close and have to do it again. He's been nothing but great about it, and I'm sure there's been times when it's frustrating and annoying to do the same things over and over and over again especially for the second time. He persevered through everything."
When the game ended, Hudson dashed outside the clubhouse briefly to see his family and give Sara a hug before coming in to speak to the media.
The plan is for him to make three to five more appearances this month, but Wednesday his mind was not yet ready to look forward. Instead, he was going to savor this night.
"Like I said and been saying all the time, it's day by day, outing by outing and we'll take it from there," Hudson said.
Steve Gilbert is a reporter for MLB.com. Read his blog, Inside the D-backs, and follow him on Twitter @SteveGilbertMLB. This story was not subject to the approval of Major League Baseball or its clubs.