D-backs president and CEO Derrick Hall chats with fans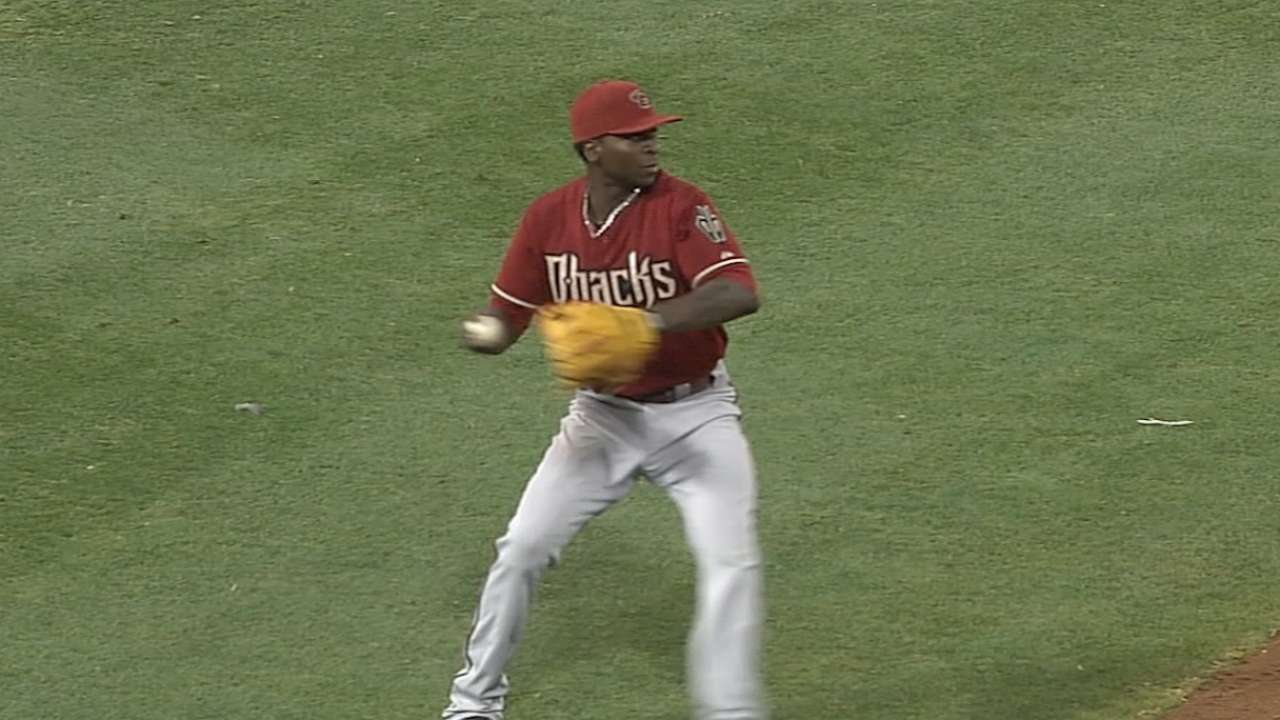 Welcome to today's chat everyone. It was certainly a nice day to wake up to after Daniel Hudson's return last night.
Thomas8045: I am a new D-back fan who lives in Las Vegas and I thoroughly enjoy coming to Chase Field for weekend games. Recently purchased a 2015 Season Ticket. You have a great organization and outstanding facilities. Good luck for next season! Are you happy with Short Stop #1 DiDi long term?
dmhall: It is nice to have depth there with Pennington and Owings as well, but Didi is so strong there defensively. He is near the top with range and arm strength. Thanks for being a new fan and season ticket holder.
commenter: Mr.Hall, What do you think about the Diamondbacks farm system and should Diamondbacks fans be excited what could happen in the future?
dmhall: We are doing very well with our minor league system. In fact, we have five teams in the playoffs right now, with our Hillsboro team already advancing to the championship series. We have tried hard to restock the system this year and we are starting to see that talent come to fruition.
commenter: How do you see Hill fitting in to the D-backs plans for 2015?
dmhall: Aaron is an important member of this team and is selfless. Knowing that we need to see Owings at second base a lot here down the stretch, he has started taking ground balls at third. His athleticism should provide us with some versatility.
xxAKAMAIxx: It was very nice to see Huddy back in there! With the emergence of Peralta and Inciarte, Pollock and Ross back, it would seem that both the infield and outfield are pretty solid, it would seem most of the attention will be focused on pitching; how does that work with the hopeful return of D-Hern, Bronson & Patrick Corbin?
dmhall: I like the outfield depth a lot. And Trumbo will be in the mix again next season out there with Goldy back at first. We will focus on starting pitching. That is why this month will be so important to see how our guys finish and bring others up to pitch and for us to evaluate after the minor league playoffs. And to your point about Hudson return, I could not be more happy. He has worked so hard and deserves some breaks now.
Thomas8045: How is Paul Goldschmidt's injury and rehab progressing?
dmhall: Goldy has been healing well and working hard. He always has such a positive attitude and is with his teammates every day for support and assistance.
jcleland: Do you expect to alter the uniforms to include red pinstripes, similar to the uniforms that were worn last weekend, but in Sedona Red?
dmhall: Thanks for the question. I would like for us to wear the World Series uniform more next season, not just for alumni weekend. And we have had preliminary discussions about changing the uniforms a bit for the following season. We are inspired by so many of the new college football looks and general direction of popular uniforms.
commenter: I am a 1st year season ticket holder - although I am many of us are disappointed with the year the D-back are having - I have renewed our season tickets for next year and would like to thank the D-backs organization for everything you do for the fans and making it fun to go to the ball games.
dmhall: Thanks for the renewal. Baseball is cyclical, and we know we won't win every season, although that's always the goal. With the injuries we suffered this spring and summer, it has been a challenge. In order to win, you need to stay healthy and also have luck on your side. We will work tirelessly to get back there.
red_leader: When can we expect to see Tony La Russa's plan for 2015 and beyond unveiled?
dmhall: I think that will become more clear as the season comes to an end. He has been in evaluation mode since his arrival and is close to making decisions and announcements. He is competitive and knows how to win.
Dbacks2006: I hear you are looking at getting an OF'r in the offseason. What is the logic in that when you are now 5-6 deep?
dmhall: We have not decided where the position would be, but we have identified the need for another bat that can produce more power and offense. We would definitely like to look at adding to the offense.
Lawrence126: D-backs Experiences is new for 2015. In what ways can season ticket holders earn additional credits?
dmhall: I would suggest getting with your season ticket rep to learn how you can earn points and credit. As you know, we challenge ourselves to provide the most perks and benefits for our season ticket holders in all of sports.
tyengels: Mr. Hall, I am a college student in Michigan getting my degree in Marketing. My dream is to eventually move to Phoenix and work for the D-backs. What do you think is the best way to make this happen?
dmhall: Good for you. And best of luck. I would suggest first trying to line up an internship while in school, but also monitoring our position openings at teamworkonline.com. frequently.
red_leader: What would you say is our biggest off-season acquisition need? A rotation anchor? Bullpen? Another bat?
dmhall: As I partially answered before, we have identified another bat and starting pitching as the needs. Our bullpen has become a strength again, but we need to bolster our rotation if possible. We do have talent in the minors that is either ready or very close to help there as well.
commenter: Any other young players mainly pitchers on the cusp of coming up?
dmhall: We have so many good arms that are close. Starters like Archie Bradley, Aaron Blair, Braden Shipley, Andrew Chafin and Anthony Banda, and relievers like Enrique Burgos, Jake Barrett, Jimmie Sherfy, and Kevin Munson. A number of these guys will be playing in the Arizona Fall League, so you will all have the opportunity to see them.
commenter: Hola amigo que gran oportunidad de saludarlo por este medio para que sepa de mi existencia yo llevo como 10 años llevando aficionados desde Ciudad Obregon sonora mexico a los juegos en phoenix y jamas e recibido ni un regalo ni un reconocimiento que me sirva a mi empresa,para hacerla mas importante,mi contacto en español es Oscar Soria y ojala pronto volvamos al Chase Field. y una ultima pregunta CUANDO VUELVEN LOS JUEGOS DE DIAMONDBACKS A HERMOSILLO .. un placer saludarlo y gracias por esta oportunidad. seguimos en contacto Manolo Jaime JAVA tours Ciudad Obregon Sonora Mexico tambien estamos en facebook.
dmhall: Gracias Manolo. We are hoping to get back to Hermosillo this spring for a game. We love our time and fans in Sonora.
dmhall: Thanks everyone. Sorry if the questions appeared out of order. We are trying new technology and will get the bugs out. And we will have a complete transcript later today on dbacks.com. We only have nine games left at home, so we hope you make plans to come on out. Go D-backs!