D-backs get first look at Hill playing third
Move would allow Gregorius at short, Owings at second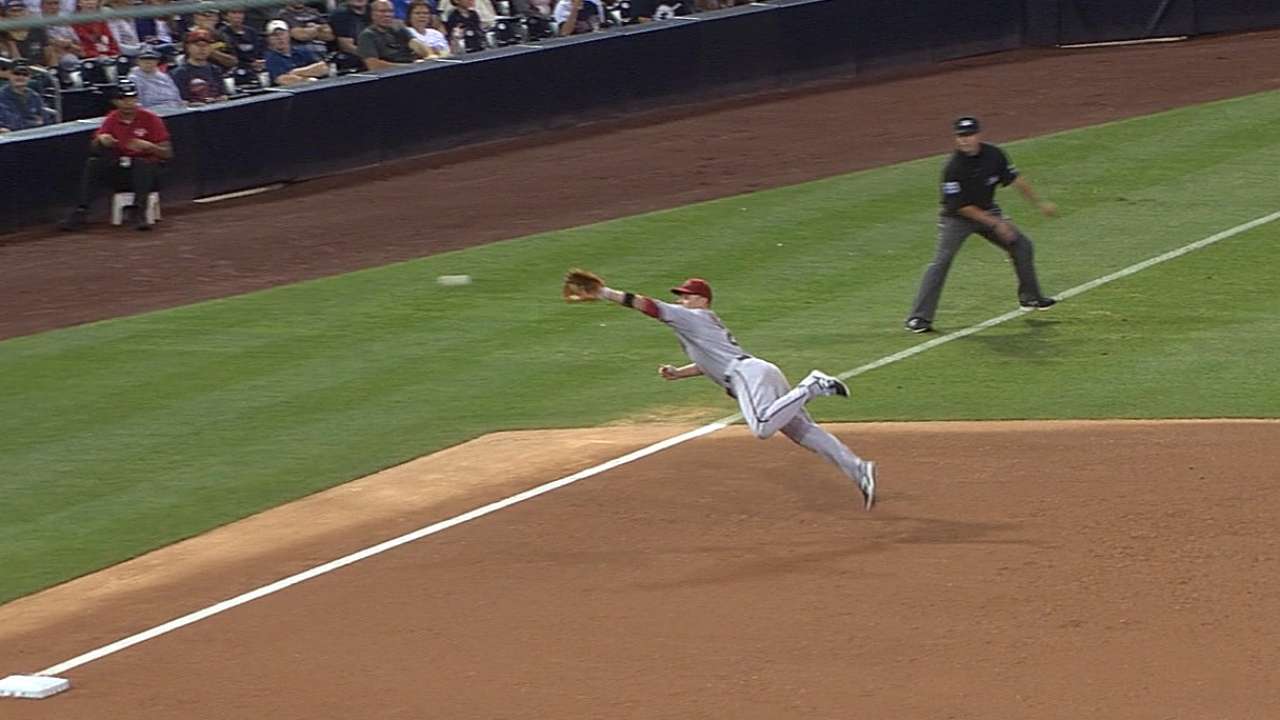 SAN DIEGO -- Thursday night, for the first time since his rookie 2005 season with the Blue Jays, D-backs infielder Aaron Hill started a game at third base.
In an effort to see if the tandem of Didi Gregorius at short and Chris Owings at second is the way they want to go in 2015, the D-backs will give Hill some starts at third rather than second. Old habits die hard, however, as the posted lineup card in the clubhouse had a scratched out "4" replaced by a "5" next to Hill's name.
That's understandable given that Hill, who came up through Toronto's farm system as a shortstop, has not played a position other than second since 2006 when he saw some time at short. In his career, he has started 1,109 games at second and 33 (including Thursday) at third.
"It's been nine years, but I remember enjoying it just because it's a reactive position," Hill said. "Everything happens a little faster over there. The biggest thing for me is going to be to get my legs moving towards first or towards my target, and that's what we've been working on."
Hill's night at the hot corner could certainly be called a success. He fielded a pair of ground balls cleanly and made good throws to first.
And in the fifth he made a diving backhanded catch of a Rene Rivera line drive down the line.
"That's just instincts," D-backs manager Kirk Gibson said after a 5-1 victory over the Padres.
Hill laughed when a reporter told him he looked comfortable at third already.
"I've got a long way to go, but it was definitely fun to get out there," he said. "I wanted a lot more action, because obviously the more you get, the more comfortable you get, and you go from there. But I'll take it, I'll take the win. It was a fun night all the way around."
Hill is owed $12 million in each of the next two years and he said he is more than willing to play different positions if need be. However, he bristled when a reporter's question mentioned the possibility of him being a utility player.
"I'm not turning into a utility man," Hill said. "If they think that's the best thing for the team, that's great, but my opinion is I'm not ready to be a utility man yet. I can be very versatile here and that's great, but to be labeled a utility man, I don't think I'm ready for that yet."
Hill entered Thursday's game hitting .241, a disappointing year offensively for him. How healthy he has been, particularly over the last month-plus, is an open question and one he did not want to touch.
On July 26, Hill was struck on the right hand by a pitch. In 13 games prior to that one, he had hit .367 and seemed to be putting things together at the plate. The bruised hand kept Hill out of the starting lineup for two games, and in the 25 games since, he has hit just. 183.
"There's no excuses," Hill said when asked if the hand hampered him at the plate. "Our job is to go play."
Steve Gilbert is a reporter for MLB.com. Read his blog, Inside the D-backs, and follow him on Twitter @SteveGilbertMLB. This story was not subject to the approval of Major League Baseball or its clubs.